Greek New Dawn's Ilias Kasidiaris sues women over TV row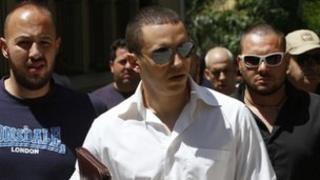 The spokesman for Greece's far-right Golden Dawn, who slapped a left-wing politician and threw water over another on a TV debate, is suing his victims.
Ilias Kasidiaris went to an Athens court to announce he would sue the women for defamation.
Mr Kasidiaris is also suing the TV station, Antenna, for illegal detention after staff tried to stop him leaving following the incident last Thursday.
Golden Dawn will be contesting a critical Greek election this Sunday.
Mr Kasidiaris avoided an arrest warrant for the attack, lying low until it expired.
Under Greek law, the arrest warrant for a minor crime must be carried out by midnight the day after the incident took place for an immediate trial - otherwise it goes to judicial procedure and a much later trial date is set.
A court date to hear the assault charges has not been set yet.
After Mr Kasidiaris emerged from hiding, he went to court on Monday to submit lawsuits against Communist Party candidate Liana Kanelli and Syriza party member Rena Dourou.
"I have come to the prosecutor today to file a lawsuit against Mrs Kanelli and Mrs Dourou for unprovoked defamation and against TV station Antenna for my illegal detention," Reuters reported him saying outside court.
'Three right-left blows'
The row started during Antenna's daily morning political show when leftist politician Ms Dourou mentioned Mr Kasidiaris's alleged involvement in an armed robbery in 2007.
He jumped up and threw a glass of water across the table at her, a clip of the programme showed.
When Liana Kanelli of the Greek Communist party, the KKE, apparently threw a newspaper at him, he responded by slapping her around the face with three right-left blows.
Staff at Antenna TV tried to keep him in a room until police arrived after the incident, but he broke out.
According to Reuters, the 31-year-old former army commando turned up at the opening of his party's new offices in a Athens suburb on Sunday and said he had been acting in self-defence.
"I did what millions of Greeks would have done - when you get hit in the face you have to defend yourself," he said.
Mr Kasidiaris is already facing earlier charges of theft and bodily harm from a separate incident, which he denies. No court date has yet been set for either case.
His Golden Dawn party garnered 7% of the vote in Greece's inconclusive May election, campaigning on an anti-immigrant platform.
Among other policies, it has proposed planting mines along Greek borders to prevent the entry of migrants.
The party has been accused of violent attacks against immigrants in Athens, but denies the claims.
Parties of the far right and left have attracted growing support as Greeks abandon centrist parties they blame for the economic crisis.
Greeks will go to the polls again on Sunday in a second attempt at electing a government.
Currently, polls put the conservative New Democracy party and the left-wing Syriza party neck-and-neck.
The vote could be crucial to Greece's future in the eurozone, with the EU warning its loans will be cut off if Syriza fulfils its promise and throws out Greece's bailout conditions.
[an error occurred while processing this directive]
Under Greek law, polls cannot be carried out within 14 days of an election, so the last poll was on 1 June.