Kurdish can be taught in Turkey's schools, Erdogan says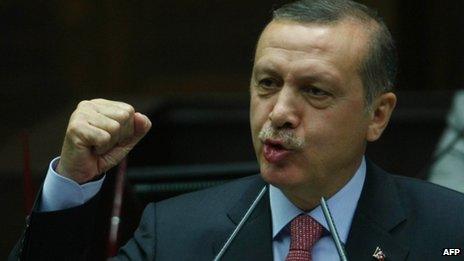 For the first time schools in Turkey will be allowed to teach the Kurdish language as an elective subject, Prime Minister Recep Tayyip Erdogan says.
Mr Erdogan told parliament the measure was "a historic step".
Turkey has been fighting Kurdish rebels in the country's southeast for decades. Many Kurds have been campaigning for autonomy and better cultural rights.
Lessons in the Kurdish language will be granted in schools if enough students asked for them, Mr Erdogan said.
Tens of thousands of people have been killed in nearly 30 years of fighting between Turkey's government and the banned Kurdish separatist group, the Kurdistan Workers' Party (PKK).
Tuesday's announcement is the latest in recent reforms introduced by Turkey to ease tensions with the Kurdish minority, who account for about 20% of Turkey's population.
While the move is a significant concession to Kurds, the BBC's Jonathan Head in Istanbul says Mr Erdogan will have to do more to win the trust of Kurdish politicians.
Gultan Kisanak of the pro-Kurdish Peace and Democracy party said permitting lessons on only an elective basis "amounts to oppression".
University-level language courses in Kurdish and other minority languages were introduced in 2009, a move widely welcomed by rights groups.
The EU has still urged the Turkish government to improve anti-discrimination laws for all minorities in the country and do more to tackle racism.
Kurdish rights remain a sensitive issue in Turkey, where political organisation along ethnic lines is banned by the constitution.
Use of the Kurdish language by Kurdish politicians has in the past provoked uproar from Turkish officials.
High-profile Kurdish activist and member of parliament Leyla Zana caused an outcry in 1991 when she took the parliamentary oath in her mother tongue.
Last month Mrs Zana was sentenced to 10 years in prison for spreading propaganda on behalf of the PKK.
Related Internet Links
The BBC is not responsible for the content of external sites.