Russian drinking party vanishes in light plane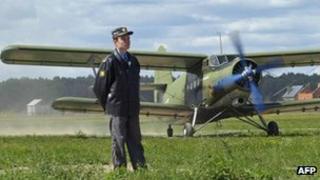 Fears are growing in Russia for a pilot and a group of revellers who took off in a light plane without permission and have not been seen since.
The group had been drinking alcohol before they boarded the Antonov 2 biplane, which was being used to spot forest fires, Russian media report.
Revellers' cars were left at the aerodrome outside the town of Serov.
Between nine and 13 people are said to be on the plane, including the town's chief of traffic police.
They took off at 23:00 (17:00 GMT) on Monday night, the Russian news website vesti.ru reports.
The plane's co-pilot and mechanic discovered the plane was missing after returning from a visit to the town. Three of the revellers' cars were found at the scene.
The plane is not fitted with radio and the pilot's mobile phone has not been answering.
A search is under way involving 70 rescue and police personnel, two planes and three helicopters, according to regional news website ural56.ru.
The region's mountainous and wooded, taiga terrain is adding to the searchers' difficulties.
Celebration
Unconfirmed reports say the party had decided either to go on a fishing trip or to have a steam bath.
The pilot, Khatip Kashapov, has more than 20 years' flying experience and is described by his company as "very experienced and disciplined".
He and his crew had flown to Serov from the city of Orenburg and had been given a three-day break before starting their forest fire monitoring duties.
According to the lenta.ru news website, the aerodrome outside Serov, a town of nearly 100,000 people, is rarely used and has been "semi-abandoned".
The aerodrome was only too happy to see the biplane arriving, said its director, Valentina Soboleva, whose husband Yury Sobolev is among those missing.
To celebrate its arrival, lenta.ru reports, a party was held for the crew on Monday.
Among those present were Serov traffic police chief Dmitry Ushakov and three of his subordinates, as well as Mr Sobolev, 67, a former paratrooper who had worked in fire-fighting aviation.
When the second pilot and the mechanic left the party for town on an unspecified errand, the remaining revellers took off in the plane.
'Almost no hope'
One report suggests Mr Ushakov told somebody before leaving that the party was heading for Kytlym, a mountain village popular with tourists in Soviet times, 266km (165m) from Serov.
There is no aerodrome in Kytlym but there are two helicopter landing-pads nearby, lenta.ru notes.
The same source notes that many of the revellers left their mobile phones at the aerodrome.
Speaking on condition of anonymity, a pilot in Serov said that even if the plane had been fully fuelled, it could not have flown for more than eight hours.
Mrs Soboleva said she had "almost no hope left" that the plane would be found intact, lenta.ru adds.
Initial reports said 12 people were aboard the missing plane along with the pilot but some media say it may have been eight.