Alan Shatter explains Dail Londonderry reference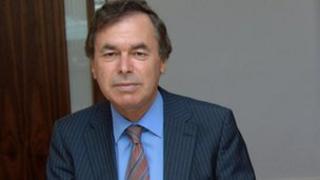 The Irish justice minister has felt the need to explain himself after referring to Northern Ireland's second city as Londonderry during a Dail debate.
Alan Shatter was discussing legislation to extend anti-terrorist powers under the Offences Against the State Act, when he listed a number of dissident republican attacks in Northern Ireland.
Among them he said were "two pipe bombs set off in Londonderry on 19 January."
The city is commonly referred to as Derry in the Republic of Ireland.
It is referred to as such in road signs, while Londonderry is perceived as the unionist name for the city.
Later, Mr Shatter explained his use of Londonderry.
"I would use either the term Derry or Londonderry interchangeably - it's used by the two different communities in Northern Ireland," he said.
"The Catholic community refers to Derry, the Protestant community refers to Londonderry.
"It's a place that I want to see live in peace and I don't have hang-ups about which name you attach to it.
"I tend to use Derry more frequently than Londonderry, simply because of my interest in soccer and catching up with Derry City on occasions."
The Londonderry reference created something of a stir on social media sites with some people saying Mr Shatter should be removed from office, although others clearly wondered what all the fuss was about.