Striking Spanish miners clash with police in Asturias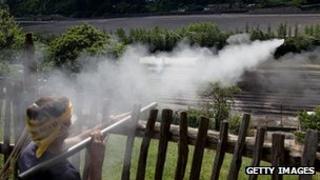 Striking coal miners have clashed with police in northern Spain, in some of the worst disturbances since the government imposed austerity measures.
The interior ministry said at least seven people had been injured in the clashes outside a mine in Asturias.
Miners fired sky rockets and ball-bearings at riot police who responded with rubber bullets and tear gas.
The miners are protesting at plans to cut government subsidies from 300m euros (£242m; $376m) to 110m euros.
Thousands of miners have been on strike across northern Spain for weeks.
The interior ministry said police had been trying to remove roadblocks of burning tyres at El Entrego, near Oviedo, when they were met with a barrage of missiles fired by the miners.
Police fired tear gas and rubber bullets and after several hours of clashes the miners took to the surrounding mountains and forests for cover, reports said.
Visor smashed
A journalist suffered a chest injury caused by a rubber bullet and a policeman needed medical treatment after a ball-bearing smashed through his visor.
Three other police officers were burned by fireworks fired at them through pipes and two journalists suffered minor cuts and bruises, the interior ministry statement said.
Miner Gerardo Cienfuegos said about 4,000 mining jobs in the region were in danger of disappearing as a result of government austerity measures.
"We were protesting to defend our jobs and police charged at us, so my colleagues defended themselves," he said.
Earlier this week, a rail passenger was injured in Gijon, Asturias, when his train hit logs that police said had been placed across rails by strikers.
The Asturias regional government has condemned the violence but asked Madrid to rethink its plans.
Mining has been a major industry in the provinces of Asturias and Leon for centuries.
Spain is grappling with an economic crisis brought on by a collapsed property boom, and currently has the worst unemployment rate in the eurozone.
On Saturday, eurozone ministers agreed to lend Madrid up to 100bn euros ($125bn; £80bn) to help bail out its struggling banks.
The crisis has prompted Prime Minister Mariano Rajoy to impose an austerity drive.