Germany's Merkel urges Greek commitment to austerity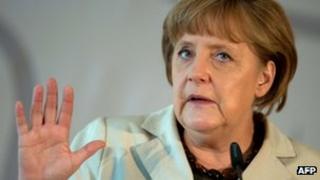 German Chancellor Angela Merkel has urged Greek voters to elect leaders who will stick to austerity measures.
Mrs Merkel was speaking on the eve of crucial elections which could determine the country's future in the eurozone.
She said Europeans cannot make commitments which they then ignore.
The main contenders, the left-wing Syriza and right-wing New Democracy, are at odds over whether to broadly stick with the tough EU bailout deal, or reject it and boost social spending.
Tough austerity measures were attached to the two international bailouts awarded to Greece, an initial package worth 110bn euros (£89bn; $138bn) in 2010, then a follow-up last year worth 130bn euros.
Many Greeks are unhappy with the conditions attached to deals which have been keeping Greece from bankruptcy.
Brussels warned
The poll, the second in six weeks, was called after a vote on 6 May proved inconclusive.
Sunday's vote is being watched around the world, amid fears that a Greek exit from the euro could spread contagion to other eurozone members and send turmoil throughout the global economy.
Germany, the biggest economy in Europe, has been a key advocate of austerity as a way for Greece to reduce its debt.
It says that Greece, like other member-states which have received international bailouts, must abide by the austerity conditions.
On the eve of the vote, Chancellor Angela Merkel said: "It is extremely important that tomorrow's Greek elections lead to a result in which those who form the government say, 'Yes, we want to keep to our commitments."
The head of New Democracy, Antonis Samaras, told supporters on Friday that he would lead the country out of the financial crisis, while staying in the eurozone.
He broadly accepts Greece's international bailout, but says he will renegotiate the terms of the agreement to seek a better deal for Greeks.
"We will exit the crisis; we will not exit the euro. We will not let anyone take us out of Europe," Mr Samaras said.
The youthful head of Syriza, Alexis Tsipras, rejects the bailout, but wants Greece to stay in the eurozone, saying a bailout is possible without the kind of drastic cuts demanded of Greece.
"Brussels expect us, we are coming on Monday to negotiate over people's rights, to cancel the bailout," he told a final rally on Thursday.
The BBC's Europe editor, Gavin Hewitt, says the vote is likely to leave big questions for Europe's leaders when they meet for an EU summit at the end of the month in Brussels.
Chancellor Merkel was one of several European leaders who took part in a video conference on Friday ahead of a G20 summit, starting in the Mexican resort of Los Cabos on Monday, which is set to be dominated by the eurozone crisis and the aftermath of the election.