EU sources say Ireland's repayment terms may be extended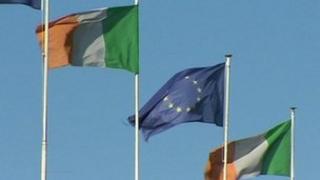 There is speculation that the length of the repayment term on Ireland's 85bn euros bailout loan could be extended.
It was set by the European Union (EU) and the International Monetary Fund (IMF) as part of the country's bailout conditions.
It could mean the existing 15-year figure set to pay back loans could be doubled to 30 years.
The move is part of an effort to secure Ireland's return to world markets.
Sources told RTE News the move was being considered because the EU, IMF and European Central Bank (ECB) believe the country has been sticking to its targets.
They also think Ireland's cost of borrowing would be lower if the eurozone crisis had not worsened.
It is understood the issue has not yet been raised with the government or with EU leaders.
Sources said the step is being considered in an effort to convince the markets that private sector bondholders would not be burned in future by Ireland.
Enforcement
Last month voters in the Republic of Ireland approved the EU fiscal pact.
Just over 60% of voters taking part in the referendum backed the controversial pact, which is aimed at enforcing budget rules in the eurozone.
Prime Minister Enda Kenny said Ireland had sent a "powerful signal" that it was committed to overcoming its economic challenges.
The treaty must be approved by 12 of 17 eurozone countries, but Ireland was the only one putting the issue to a public vote.
The pact, signed by all EU members except the Czech Republic and the UK, allows EU member states to co-ordinate their budget policies and impose penalties on rule-breakers.
It is an inter-governmental agreement, legally binding on all those who ratify it. It is called a "treaty", but is separate from EU-wide treaties which have to be signed by all 27 member states.
It commits all ratifying members to achieve budget deficits of less than 0.5% of economic output.
Last year, Ireland's deficit reached 13.1%.
The country's voters have twice rejected EU treaties - in referendums in 2001 and 2008 - though both votes were overturned in subsequent polls.
Those against the treaty argue that austerity is not working and suggest that the country should instead default on debts at five nationalised banks.