Two French women gendarmes shot dead in village dispute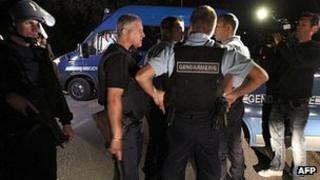 A man has been arrested in southeastern France after two women paramilitary police were shot dead in a village.
The gendarmes, aged 29 and 35, had rushed to the village of Collobrieres after a burglary on Sunday night.
During an argument the suspect is believed to have grabbed one gendarme's pistol and killed her, before chasing after the second gendarme and killing her too.
The tall, shaven-headed man, aged 25, was arrested near the village.
Interior Minister Manuel Valls went to the village on Monday and President Francois Hollande described the crime as "an attack on the Republic".
Police believe the suspect's girlfriend, detained with him, played some part in the shooting.
Sources close to the investigation, quoted by French TF1 television, say the suspect had been reported to police after being spotted allegedly with a bag, which the burglary victim had reported missing.
When the gendarmes called at the suspect's house, the argument erupted and he allegedly knocked one of them to the ground, kicked her in the head, then grabbed her gun and shot her. She was married with two daughters. The other victim had a gendarme boyfriend.
It is reported to be the first time in the gendarmerie's history that two women gendarmes have been killed on the same operation.