Second Turkey prison fire wounds 14 in Sanliurfa region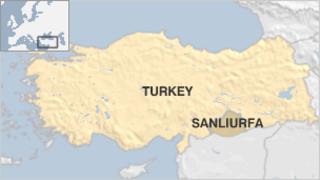 Fourteen people have been wounded in a second fire at a prison in southeast Turkey, officials say
The incident comes only two days after a fire at the same jail left 13 people dead.
The governor of the prison, in Sanliurfa province, said Monday's blaze began in a ward housing juvenile prisoners.
The fire was brought under control after about an hour. It is unclear whether the two fires are linked.
About 70 prisoners were take out of the jail after inhaling smoke during Monday's fire, with 14 of them being admitted to hospital, prison governor Celalettin Guvenc told NTV television.
The first blaze broke out on Saturday after inmates set bedding alight. Mr Guvenc told Reuters it began after a row between the inmates.
Those inmates at jail, said to number about 1,000, include political prisoners, reports say.