Russian punk group Pussy Riot's members stay in jail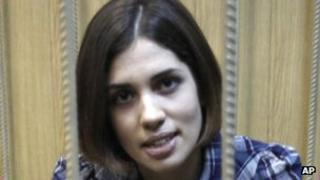 Three members of the Russian punk group Pussy Riot have been told they will remain in jail until late July.
The trio, from the all-female group, were arrested in February after storming the pulpit of Moscow's main Orthodox church.
A court in the city said they should stay in custody while an investigation is carried out.
Pussy Riot danced in the church while wearing garish colours and masks during the incident in February.
It was one of a number of performances intended as a protest against Vladimir Putin in the run-up to Russia's presidential elections in March.
The women were removed from Moscow's Christ the Saviour Cathedral by security guards after chanting "Mother Mary, drive Putin away" on 21 February.
Nadezhda Tolokonnikova, Mariya Alekhina and Yekaterina Samutsevich were placed in custody.
The incident sparked protests at a court hearing in April, with at least 20 people detained - a mix of supporters and opponents of Pussy Riot.
The church has asked for the women to be treated severely.
If convicted of hooliganism, they could face up to seven years in prison.