U2 star gives evidence in ex-assistant trial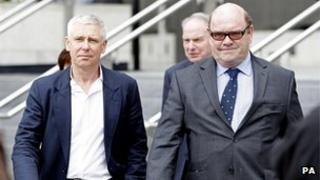 U2 bassist Adam Clayton has been giving evidence against his former personal assistant accused of embezzling 2.8m euro of his money.
Carol Hawkins, 48, of Lower Rathmines Road in Dublin, is accused of 181 counts of theft over a period of four years. She denies the charges.
Clayton was questioned in court about their working relationship and details of his bank accounts.
The defendant was a signatory on two of his accounts.
Dublin's Criminal Circuit Court heard that it was from two of these accounts that Ms Hawkins is accused of drawing 181 cheques and lodging them into her own bank and financing a lavish lifestyle.
A prosecution barrister previously told the court that Ms Hawkins lodged the money into her own personal account, a joint account with her then husband John Hawkins and a credit card account, between 2004 and 2008.
Clayton said Ms Hawkins - who worked for him for 16 years - had carried out her duties "efficiently and well" when she worked for him.
He told the court he only ever hired people who were capable of doing their job to look after his affairs.
"I trusted people, and that's why we're here today," he said.
Clayton originally employed Ms Hawkins, a mother-of-two, as a housekeeper and her then husband as a driver and occasional chef.
They were paid a joint salary of about 48,000 euro - a set-up Clayton described as "tax advantageous" for the couple.
Ms Hawkins' duties evolved from looking after the house and preparing meals, to eventually looking after Clayton's books.
When she and her husband separated - in about 2007 - Clayton continued to pay her the full salary of the two.
Clayton told the jury of seven men and five women that the defendant had confessed in 2008 to booking herself between 13,000 euro (£10,500) and 15,000 euro (£12,100) worth of flights on Clayton's account to visit her children in the US and London.
"She also mentioned that she had been suicidal and had taken an overdose," he said. "I was concerned for her health and recommended she see a therapist. I got her a therapist locally.
"In the matter of the money, I accepted she was a distressed woman. Her marriage broke up, her children had gone away.
"I said we would have to verify the amounts she had been claiming."
Clayton said he removed Ms Hawkins as a signatory on his accounts, but kept her as an employee.
"She had my absolute trust. We had been together a long time - working together. She had been very conscientious," he added.
"I felt she looked after my money and on many occasions accused others of being greedy so I was extremely surprised."