Turkey in new air strikes on Kurdish rebels in Iraq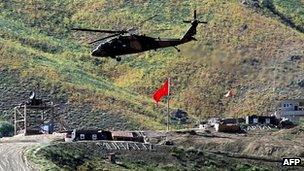 Turkey's military has confirmed further air strikes against Kurdish rebel bases in northern Iraq.
It said nine attacks were carried out by Turkish aircraft on hideouts of the Kurdistan Workers Party (PKK), mostly in the Qandil region.
Last Wednesday the military said it had carried out similar strikes, a day after eight Turkish soldiers and 26 PKK rebels were killed in clashes.
The air strikes come amid Turkey's row with Syria over a downed Turkish jet.
Turkey's general staff said on its website that its warplanes had hit "nine targets belonging to the separatist terrorist organisation", referring to the PKK, and that all planes had returned safely.
Several thousand PKK rebels are believed to be based in hideouts in northern Iraq.
The number of clashes between the PKK and the Turkish armed forces has risen in south-east Turkey over the past year, and the PKK has in the past carried out bombings in other parts of the country.
The BBC's Jonathan Head in Istanbul says Turkey's air strikes have had little visible impact on the PKK's campaign against the Turkish state.
Wednesday's attacks were sparked by a rebel assault on army outposts in Hakkari province that left eight Turkish soldiers dead and 16 wounded.
The PKK, which is classified as a terrorist organisation by the EU and the US, launched a guerrilla campaign in 1984 for an ethnic homeland in the Kurdish heartland in the south-east of Turkey.
It has now dropped a claim for an independent Kurdish state but says it is fighting for autonomy and the cultural rights of the Kurdish people.