Pope Benedict visits quake-hit north Italy town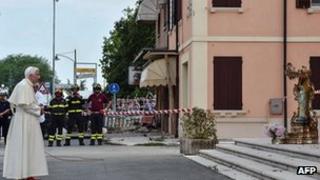 Pope Benedict XVI has visited one of the towns worst affected in last month's earthquakes in northern Italy which claimed at least 25 lives.
The Pope travelled to Rovereto Di Novi, in the Modena region, where the parish priest was killed as he apparently tried to save a statue of the Madonna.
The Pope prayed before the statue, on display outside the church, and went on to greet local residents.
Much of the town has been declared off limits because of unstable buildings.
The earthquakes of 20 and 29 May caused property damage estimated at $6bn (£3.83 bn) in northern Italy.
'Rebuild on faith'
Father Ivan Martini, 65, was killed when part of the church roof collapsed during an aftershock on 29 May, while he was inside checking damage.
Many people are now living in small tents near the church of St Catherine, where he was priest.
In an address, the Pope told the people of Rovereto Di Novi to rebuild on their faith, the Reuters news agency reports.
"On this rock, on this firm hope, you can build, you can rebuild," he said.
Resident Albino Lodi said he hoped the visit would "bring a smile to the faces of these people who were hit so badly by the earthquake."
More than 14,000 people remain in temporary accommodation in the region following the earthquakes.