France makes pledge to Aung San Suu Kyi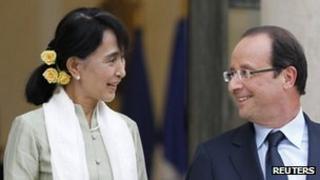 French President Francois Hollande has told Burma's Aung San Suu Kyi that Paris will do all it can to support her country's transition to democracy.
Meeting the visiting Burmese opposition leader, Mr Hollande said his government would work with the EU towards "full and total democracy" in Burma.
Ms Suu Kyi's visit to Paris is the last stage of a five-country European tour.
In France she spoke of the future, saying she did not want to be shackled by the past.
She said she did not bear grudges towards the military regime.
"I never think of them as those people who placed me under house arrest for so many years. This is not the way we bring about national reconciliation," she said.
She said she found it disturbing when people described her as an icon. "Icons just seem to sit there doing nothing at all - and I work very, very hard, I assure you."
Honorary citizen
Ms Suu Kyi arrived in France on Tuesday after travelling from London and had dinner with Mr Hollande at the Elysee Palace on Tuesday evening.
Speaking at a news conference after the two held talks, Mr Hollande said: "France will support all of those involved in the democratic transition in Burma. It will do everything possible, along with the European Union, so that this process is completed - that is to say, a full and total democracy."
During her three-day trip to France she is due to receive an award granted in 2004 making her an honorary citizen of Paris and plant a "tree of freedom".
She is also to meet campaigners - including exiled Burmese citizens - who lobbied for democracy in Burma during two decades of military rule.
Aung Suu Kyi will return to Burma on Friday after visiting Norway, Ireland and Britain, Switzerland.
In Norway, she gave her Nobel Peace Prize speech 20 years after she was given the award while under house arrest during military rule in Burma.
The 67-year-old later became the first non-head of state to address the UK parliament on her first overseas trip in 24 years.
She was voted into parliament earlier this year as part of a democratic transition now under way in Burma, and says part of the purpose of her trip is to persuade European leaders to back that process.