Cyprus not for sale, president says after bailout talks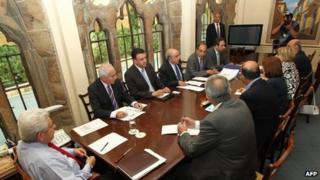 The president of the Republic of Cyprus has said his country is "not for sale" after talks in Nicosia on its EU bailout request.
Questioned by a reporter, Demetris Christofias said his people had their dignity, and he added: "Don't challenge me with such questions."
Finance Minister Vassos Shiarly said reports Cyprus was seeking 10bn euros (£8bn; $12.5bn) were speculation.
Formal negotiations with the EU have yet to begin.
The Republic of Cyprus, which has the eurozone's third-smallest economy, informed EU authorities on Monday that it intended to apply for financial assistance.
It said it needed help to shore up its banks, which are heavily exposed to the Greek economy.
Credit ratings agency Fitch has said the country, which has a population of one million, would need 4bn euros to support its banks, the equivalent of almost a quarter of its GDP, or economic output, last year.
The country has already borrowed 2.5bn euros from Russia, whose business people are important customers of Cyprus's relatively large offshore financial sector which offers low tax rates.
Pressure for funds grew on Wednesday when the Bank of Cyprus, the island's largest lender, said it would ask the state for 500m euros temporarily to meet a 30 June deadline to bolster its regulatory capital.
'No harsh measures'
On Tuesday, President Christofias assembled Cypriot political leaders to discuss the bailout.
As he emerged from the talks, a journalist told him: "I heard that the island is for sale."
"Cyprus island is not for sale and the Cypriot people have dignity and don't challenge me with such questions," he replied.
His finance minister said an exact amount for the bailout had not been discussed.
"This is a matter which will be determined by the process that will follow, so no amount has ever been discussed," said Mr Shiarly.
He added that there was no question of Cyprus having to take "harsh measures".
"I talk about a package which is suitable for Cyprus and the best for the people of Cyprus," he said.
The bailout figure of 10bn euros was quoted to Reuters news agency by two unnamed eurozone officials.
"The exact number has not been decided yet," one of them said.
"It was to be 6bn for the state financing and 2bn for the banks but that is optimistic - it is more likely to be 7[bn] and 3[bn], up to 10bn euros in total."
Officials from the European Commission and the European Central Bank, possibly along with the IMF, will travel to Nicosia next week, Reuters added.