German hunting law 'infringes rights' - European judges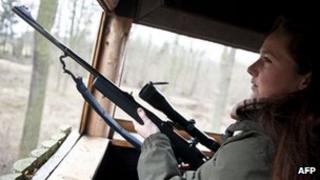 A German law obliging landowners to tolerate hunting on their land violates the European Convention on Human Rights, judges in Strasbourg say.
A German landowner morally opposed to hunting sought justice at the European Court of Human Rights. Guenter Herrmann has less than 75 hectares (185 acres) of land in Rhineland-Palatinate.
The ruling said Germany's law violated the article on protection of property.
The court previously ruled against France and Luxembourg in similar cases.
The court's judgment in Herrmann v Germany is binding and not subject to appeal, so Germany is obliged to amend its law.
Germany has also been told to pay Mr Herrmann 5,000 euros (£4,005; $6,249) in damages and 3,862 in costs.
A court statement said that since the two previous rulings several European countries had amended their legislation, allowing landowners to object to hunting on their land or to terminate their membership of a hunting association.
Currently the German Federal Hunting Law makes Mr Herrmann, a vegetarian lawyer, automatically a member of the Langsur hunting association and compels him to tolerate hunting on his land.
His complaint was rejected by the German authorities, who argued that the law was intended to maintain wildlife diversity and "rational management of game stocks".