Silvio Berlusconi avoids tax evasion case in Italy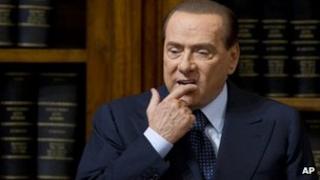 A judge in Rome has closed a tax evasion case against former Italian Prime Minister Silvio Berlusconi under the statute of limitations.
The judge ruled that the case involving the trading of film rights at a subsidiary of Mr Berlusconi's Mediaset company had timed out.
Eleven other people in the case were cleared under the same statute.
Mr Berlusconi, who resigned in November in response to Italy's economic crisis, is still on trial in two other cases.
He is accused of having paid for sex with an under-age prostitute, and of a role in the publication of an illegally obtained wire-tap.
He denies wrongdoing in both ongoing cases, as well as the tax evasion case.
Wednesday's court decision relates to the trading of film rights by Mediatrade, a subsidiary of Mediaset.
Mr Berlusconi, his son Pier Silvio and 10 other suspects were accused of tax fraud amounting to millions of euros in 2003 and 2004, when Mediatrade was based in the Italian capital.
Despite the dropping of the case in Rome, Mr Berlusconi's son and others face a separate trial on similar charges in the northern city of Milan.