Man badly injured in fall from Acropolis in Greece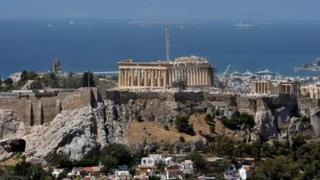 A man has been badly injured after falling from the hill of the Acropolis overlooking the Greek capital Athens in what may have been a suicide attempt.
The unnamed man, 45, fell on the Theatre of Dionysus below at around 09:30 (06:30 GMT), at a time when tourists were visiting the site.
A security guard told AFP news agency he had jumped, and had seemed to be not "in a normal mental state" at the time.
He suffered serious head injuries, Greek newspapers report.
A police source told AFP the man had fallen 100m (328ft) and was not expected to survive.
According to the security guard, the man was alone when he jumped.
Greek police have opened an investigation.
Nothing has been reported about the man's possible motives for jumping, if it was a suicide attempt.
Suicide numbers have risen in Greece, with most attributed to financial problems stemming from the economic crisis, Kathimerini newspaper reports.
Health ministry figures suggested the rate may have increased by as much as 40% in 2011.
Perched on a hill above Athens, the Acropolis is an ancient citadel containing such architectural treasures as the Parthenon. As such, it is a top tourist attraction.