Euro 2012: Belarus leader Lukashenko to attend final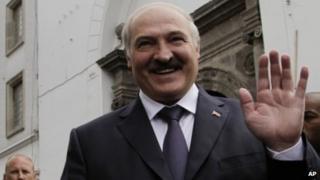 The President of Belarus, Alexander Lukashenko, plans to attend the final of the Euro 2012 football championship in the Ukrainian capital Kiev.
Mr Lukashenko has been accused by the European Union of human rights abuses.
Along with 200 of his officials, he is subject to strict EU and US sanctions.
He will meet Ukraine's President Viktor Yanukovich on 1 July and watch the final, according to reports in Belarussian media and Russia's Interfax agency.
Ukraine, which is co-hosting the tournament with Poland, has itself been criticised by the EU for its prosecution of former Prime Minister Yulia Tymoshenko.
Mrs Tymoshenko was sentenced to seven years in prison last October on charges that she abused power when she was in office.
A number of European leaders have boycotted Euro 2012 games in Ukraine because of Mrs Tymoshenko's case.
However, both Spanish Prime Minister Mariano Rajoy and Italian Prime Minister Mario Monti are expected to attend Sunday's match.
In February, the EU recalled its ambassadors to Belarus after the country expelled the bloc's representative in Minsk in protest against sanctions.
'Unfavourable visit'
Mr Lukashenko has been president of Belarus since 1994. He was re-elected in 2010 in a disputed election which was followed by violent clashes between police and anti-government protesters.
Some opposition activists have criticised his expected visit to Kiev, voicing concern that it suggests closer ties between Ukraine and Belarus, whose relations have recently been tense.
"The arrival of Mr Lukashenko is unfavourable for Ukraine... Ukraine has become a smaller copy of Russia and an enlarged one of Belarus," Nikolai Khalezin, director of Free Belarus Now, told the BBC News website.
"Refusal by European leaders to attend the finals does not solve the problem of authoritarianism," he added.
Italy and Spain will face each other in the Euro 2012 final on Sunday evening.