Former U2 personal assistant Carol Hawkins found guilty of theft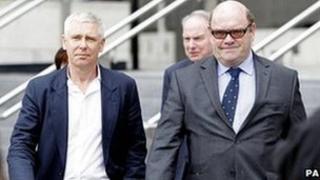 U2 star Adam Clayton's former personal assistant has been found guilty of embezzling 2.8m euros (£2.2m) from him to fund a lavish lifestyle.
Carol Hawkins was convicted on 181 counts of theft from the bassist's bank accounts over a four-year period.
Mr Clayton walked into the courtroom as the jury at the Circuit Criminal Court in Dublin returned an unanimous verdict on each individual count.
Jurors had been deliberating for more than five hours.
Judge Patrick McCartan released 48-year-old Hawkins on bail until sentencing on 6 July.
He told the jury: "The evidence in this case was overwhelming. Nobody could seriously disagree with the verdict you have given."
Speaking afterwards, Mr Clayton said he was pleased with the verdict and thanked his legal team.