Iceland President Olafur Ragnar Grimsson wins fifth term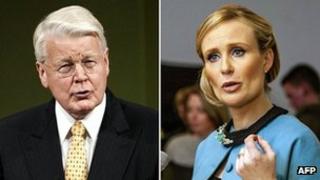 Iceland's serving President Olafur Ragnar Grimsson looks set for a record fifth term in office, beating his rival by nearly 20 percentage points.
Mr Grimsson secured 52% support against 33% gained by his main challenger Thorna Arnorsdottir.
Ms Arnorsdottir, a journalist who gave birth during the campaign, acknowledged defeat.
The presidency is a largely ceremonial post, but Mr Grimsson's opponents accused him of politicising the role.
Mr Grimsson, 69, who has been in office for 16 years, has courted controversy by using this power three times to veto bills he disagreed with.
One such instance - his refusal to sign off plans to pay 4bn euros ($5.1bn, £3.2bn) to Britain and the Netherlands for debts incurred during the 2008-9 financial crisis - proved popular with Icelanders.
Thora Arnorsdottir, who campaigned on a promise to return the presidency to its ceremonial role, came second with 33.2%.
Accepting defeat, she said she had been overwhelmed by the amount of support she had received.
"This has been a valuable experience. Now I will take a holiday, attend to my new daughter and the other children and go on maternity leave," she told public broadcaster RUV.