Spanish on football triumph amid economy woes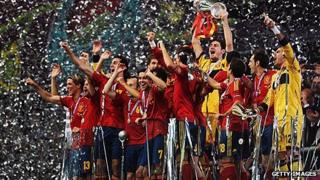 The Spanish football team is home after winning a third major tournament in a row. They return to a country with the highest unemployment rate in the eurozone - with one in four people now out of work.
Here, Spaniards reflect on whether victory on the football pitch has distracted people from the country's economic troubles.
Pedro Sierra, 23, unemployed graduate, Segurilla
I watched the match in a bar in town. When the match ended there was a lot of people in the streets and standing in the fountains.
All of them were singing, dancing and celebrating the victory in this championship with flags and national team T-shirts.
The streets were full of people. The reaction was perhaps exaggerated, in my opinion, as if we couldn't see the economic situation.
I like football, I watched all of Spain's matches in this championship and I was glad when my national team won yesterday.
But I'm unemployed and I didn't win any money - or any job - along with this championship.
I have a degree in business and I'm looking for a job but can't find anything. This is really difficult. I'm studying English and if I can't find a job I might leave the country to look for work.
Of my friends, I think those who were really happy with the result were the ones who already have jobs.
But I can understand people who have celebrated the victory as a distraction in these hard economic times. People need joy.
Jose Ignacio Fernandez, 47, psychotherapist, Santander
This football team is a historic one, not just in Spain but throughout the world. I watched the game with friends at home. It was the type of match that was very comfortable to watch - with no pain!
People are feeling positive today, but at the same time life goes on, work goes on. We still have our feet on the ground.
The economic situation is affecting us all in Spain - as it is across Europe.
I work in a private centre so our work depends on the demand, and in this situation some people prefer to go to public institutions.
The Spanish footballers get on really well, which is a good example of unity. Players from Barcelona and Madrid - which are always in competition - are friends in the Spanish team. I think the politicians can learn a lot from that.
Most Spanish people want politicians to unite to deal with the problems we have. These are times for co-operation, not for increasing mental, party or national borders.
Unity is the only solution, but not only for Spain. Spanish problems have a lot to do with the problems in Europe and the lack of unity in the EU. We pay very high interest rates on debt compared with other European countries, which benefit from this situation.
Andres Granda, 27, graduate with temporary work, Murcia
It's as if Spanish people have been brainwashed. Suddenly everyone is so happy and so proud of Spain.
Everyone is saying: "Spain has the best football team in the world, Spain is the best country in the world, Spain is the best."
Spain didn't actually win anything. It was the football players who did. When I say this to people I get some bad looks.
Then I ask: "But did you find a job?"
"No," comes the answer, "but Spain is the best team."
I am in a minority I suppose.
I am a drama graduate and had been looking for work for some time. In June I got a job in an ice-cream parlour for the summer.
I was forced to take a break just to watch the game. After the match everyone was very happy, and yelling. Many people were crying, and hugging each other. I work in a pedestrian square and I can see flags all around.
I think people just want to forget everything. It's not a rational thing.
I would like to work part-time and study in my spare time, but it's very difficult. I am thinking of moving to Madrid where the unemployment rate is slightly lower.
Angeles Rodriguez De Cara, 36, research scientist, Madrid
I watched the match last night with my family. I also heard all the noise coming from the streets outside, where there were massive celebrations.
I was very happy to see Spain win, but it's just a shame about the state of the country in general at the moment.
Here in Madrid today, I passed by the education ministry building, where they were hanging a banner outside congratulating Spain.
But just a few days ago they cut funding for textbooks for the poorest families, so I thought it was a bit hypocritical.
My three-year-old is also about to start school, at a time when classroom numbers have increased from 24 to 28.
From today they are also charging 10 percent on prescriptions for pensioners, whereas before it was free.
These austerity measures are affecting all of us, and none of us can do anything about it.
It's good to have a welcome break from our day-to-day problems, but these celebrations will only last a week and then it is back to reality.
It also helps that many people are on holidays at the moment.
But we are worried about our future, longer term. My contract finishes at the last month.
His benefits are decent, for now, but we are still looking at our options longer term, and we have to be open to everything, including the possibility of moving abroad.