Cyprus begins EU presidency amid cash woes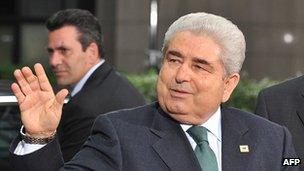 Cyprus is taking its turn at running EU business for the first time since joining the bloc in 2004, but its looming bank bailout and tensions with Turkey have struck a discordant note.
Cyprus President Demetris Christofias says reaching a deal on the EU's 2014-2020 budget will be a priority in Cyprus's six-month EU presidency.
But just last week Cyprus asked for a eurozone bailout to help its banks.
The bailout, the fifth in the eurozone, could reach 10bn euros (£8bn; $13bn).
Auditors from the "troika" of international lenders are expected in Nicosia on Monday to begin an assessment of Cyprus's bailout needs.
The troika is made up of the European Commission, European Central Bank and International Monetary Fund.
Most of the bailout money is expected to go to Cyprus Popular Bank, the island's second-largest lender, which is heavily exposed to debt-laden Greece. The Bank of Cyprus is also likely to get a cash injection.
In a statement on the European Council website President Christofias, a communist, said it was "high time that all our efforts were directed towards a better Europe for the younger generations". He said Cyprus would strive to build "a Europe of hope".
Budgetary discipline in the EU must be "complemented by the promotion of a strong growth strategy", he said, adding that "austerity-only policies have not proven successful".
He said Cyprus would try to broker an agreement on the EU's long-term budget - the Multiannual Financial Framework (MFF) - this year.
But a big role in the negotiations will be played by European Council President Herman Van Rompuy. Since the Lisbon Treaty was adopted in 2009 he has acquired many of the powers previously held by the six-month rotating EU presidency.
The Cyprus presidency also aims to launch a Common European Asylum System by the end of this year and foster a deepening of the EU Single Market.
Turkey does not recognise the Republic of Cyprus and is refusing to talk to the Cyprus EU presidency, preferring instead to deal with the European Commission.
Turkey's EU accession negotiations remain stalled and that position is unlikely to change while Cyprus is running EU business, analysts say.
Turkey has opened only 13 negotiating chapters, and closed only one, on science and research. No chapters have been opened for two years.
Eighteen chapters have been frozen - eight by the EU, because of Turkey's refusal to allow Cypriot ships to use Turkish ports, and the remaining 10 by the governments of Cyprus and France.
Turkish-controlled northern Cyprus - the self-styled Turkish Republic of Northern Cyprus - is recognised only by Ankara.
This year the Cyprus-Turkey dispute has deteriorated further because of oil and gas exploration in and around Cyprus. The two sides have opposing views on the issue of sovereignty and exploration rights.
In a statement the Council said it "notes with deep regret that Turkey, despite repeated calls, continues refusing to fulfil its obligation of full, non-discriminatory implementation of the Additional Protocol" - a reference to the Turkish boycott of customs arrangements with Cyprus.
Related Internet Links
The BBC is not responsible for the content of external sites.