Spanish press glow with pride over Euro 2012 victory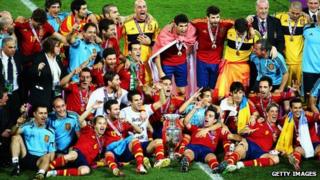 Spanish and Italian newspapers are dominated by Spain's victory at the final of the Euro 2012 championship in Kiev, with commentators on both sides acknowledging that Spain were worthy winners.
Spanish papers see the victory as a uniting force in the face of regional separatism and economic woes, while the Italian press is disappointed but still proud of their national team's unexpected performance in the tournament.
Spanish press
Restoring confidence
Spanish commentators express pride in their national team, and a hope that its success will help Spain to weather its political and economic troubles.
Jesus Fonseca, in La Razon writes: "We needed confidence and here we have it."
Under the headline "Sport remakes Spain", Fonseca says: "The success of Spanish sports gives us, if only psychologically, greater credibility in the eyes of Europe and the world. It makes us admirable."
An editorial in El Pais praises Spain's "exemplary football", and says the success will provide "an indirect relief, though fleeting, from the destructive consequences of the recession and unemployment that Spanish society is suffering".
El Mundo agrees that success at Euro 2012 gives people a chance to "publicly express their pride in being Spanish at a time when other areas don't give many opportunities to show off".
An El Periodico editorial says that the team "has given us a lesson of magic football and collective sacrifice".
"Football is not going to fix the economic and social problems, but should be a road map," rather than just a comfort, it adds.
National pride
An editorial in Madrid-based ABC says that the tournament has been enough "to give rise to a spontaneous feeling of pride in belonging to the common people and history, a way of being".
The editorial laments that the Spanish "do not practice more regularly this regrouping, this working together" in order to overcome challenges such as the economic crisis.
Isabel San Sebastian, also writing in ABC, says that the "display of flags and proud proclamations of Spanishness, even in places like Amurrio, in the Basque Country" when the national team plays shows that deep within Spain there is a "spirit of unity", but that this is not always evident in everyday life.
An editorial in El Mundo notes that some have been referring to the football team as La Roja, rather than Spain, in order not to offend nationalists.
"The nationalists are right to fear football. It is a good antidote to separatism," the daily says.
Italian press
Disappointment
Italian commentators focus more on the football itself than its repercussions in the outside world, and their disappointment is clear.
The tears that followed the final whistle feature on the front pages of many Italian papers. Turin-based Tuttosport is dominated by a picture of a teary-eyed Mario Balotelli, with the headline: "Blue tears", while Corriere della Sera has created photo galleries documenting the disappointed faces of Italian fans and players.
Many Italian commentators feel that the Azzurri were exhausted. Gazetta dello Sport exclaims "Too tired" in a banner headline, and Massimo Mauro in La Repubblica observes that "the physical difference was too much and too evident from the start".
Fabrizio Bocca, also in La Repubblica says: "It was not the Italy that we had watched before, against England and against Germany, it was simply another team."
Praise for Spain
There was universal praise for the Spanish team, which according to La Repubblica's Bocca "plays the best football in the world. A perfect team, from the defence to the attack".
Alvaro Moretti writes in Tuttosport: "This time, no bitterness of the golden goal [as in the Euro 2000 final against France], this time only the certainty of having lost to the stronger and healthier team."
Massimo de Luca in Corriere della Sera says "it was nice to dream", but agrees that Italy were outplayed, and suffered from going down to 10 men.
"With even numbers we would have lost better, but we would still have lost ... Spain returned to being Spain (and not the slightly slow and simpering copy seen in the first game)," he says.
Pride and gratitude
Many Italian press headlines say "grazie" to the Azzurri for their efforts in the competition.
Fabrizio Bocca thanks the team in La Repubblica "for the demonstration of great unity, of strength, of application, of will, of dedication to work". Massimo de Luca in Corriere della Sera is pleased with the way the contest has revived the national team's image, something which "the bitter end [to the tournament] cannot erase".
Gianni Rotta in La Stampa looks beyond the confines of the football pitch, and says that Italy's progress has become "a fairy tale" for the country, even without the happy ending.
"In a difficult year, many of us have found in the flashes of Cassano, in the wide eyes of Buffon... a happy omen," Rotta says, adding that if such success can come to the Azzurri "why not to me, my family, my country?"
BBC Monitoringselects and translates news from radio, television, press, news agencies and the internet from 150 countries in more than 70 languages. It is based in Caversham, UK, and has several bureaux abroad. For more reports from BBC Monitoring,click here .