Finland threatens eurozone bailout plans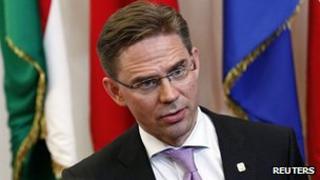 Finland has cast doubt on one of the key crisis-response measures agreed at last week's EU summit - to use eurozone bailout funds more flexibly.
The Finnish government says it has Dutch backing to prevent the eurozone's new permanent bailout fund - the ESM - from buying bonds in secondary markets.
Under pressure from Italy and Spain the 17 eurozone leaders agreed to ease the mechanism for bond purchases.
Germany's top court will soon consider legal challenges to the ESM.
On 10 July the German Constitutional Court in Karlsruhe will examine complaints against the 500bn-euro (£400bn; $629bn) European Stability Mechanism (ESM), from those who believe it violates the German constitution and by-passes German democracy.
In an earlier ruling the court said the German government must involve parliament more in the management of eurozone bailouts.
Chancellor Angela Merkel did, however, get parliamentary approval for the ESM and eurozone fiscal treaty on Friday.
Legal hurdles
The launch of the ESM has already been delayed - it was originally supposed to happen on 1 July.
Another delaying factor is the requirement for a single eurozone supervisor to control the bailout funds.
The Finnish statement, quoted by the AFP news agency, said that "in the future unanimity is needed in order to decide on [bond] purchases, and it seems that unanimity is not possible due to Finnish and Dutch opposition".
Until the ESM is fully operational the plan is to use the existing bailout fund, the European Financial Stability Facility (EFSF), to buy sovereign bonds and recapitalise struggling Spanish banks. But it is reckoned to have only about 250bn euros left.
Last year Finland delayed a second bailout deal for Greece by demanding collateral on its share of EFSF loans.
The summit deal reached on Friday did not specify the exact mechanism for future eurozone bond purchases.
Previously the European Central Bank (ECB) has bought eurozone bonds in the secondary market - a policy that remains controversial.
The summit statement spoke of the eurozone's commitment to "do what is necessary to ensure the financial stability of the euro area, in particular by using the existing EFSF/ESM instruments in a flexible and efficient manner".
It said the ECB "has agreed to serve as an agent to EFSF/ESM in conducting market operations in an effective and efficient manner".