Radovan Karadzic: Prosecutors to appeal over acquittal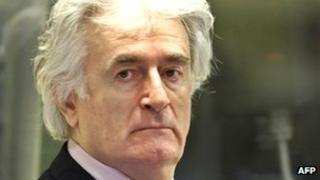 Prosecutors say they will appeal against the acquittal of former Bosnian Serb leader Radovan Karadzic from one of two charges of genocide.
The prosecution said they would contest the decision on the grounds that judges "made errors of law and fact".
Mr Karadzic had attempted to have 11 charges against him dismissed in June 2012, but failed in all but charge.
That related to the forcible expulsion of hundreds of thousands of non-Serbs from towns and villages in Bosnia.
Thousands of men were held for months in detention camps. Many were murdered.
Mr Karadzic is also accused of being responsible for the deaths of more than 7,000 Bosniak (Bosnian Muslim) men and boys in Srebrenica in 1995, as well as a campaign of shelling and sniping against civilians in Sarajevo and the taking hostage of UN staff.
He was arrested in 2008 after having been on the run for almost 13 years.
Mr Karadzic's defence case is due to begin in October.