Five German climbers killed on Swiss Lagginhorn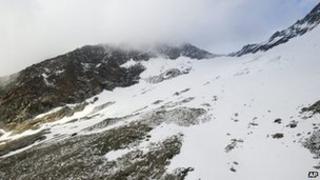 Five climbers who fell to their deaths while climbing a Swiss mountain on Tuesday were German and included two teenagers, police have confirmed.
A sixth climber, who survived and alerted authorities, was the father of two of the victims.
Another man died along with his son and a family friend, in what was the worst Swiss Alpine accident this year.
Police are uncertain what caused the accident, but said the climbers did not appear to have been roped together.
The hikers were descending the Lagginhorn mountain when they fell, at about 13:00 (11:00 GMT) on Tuesday.
The 4,010m (13,155ft) Lagginhorn is in the Valais canton in the Swiss Alps, about 10km (six miles) from the Italian border.
"The five climbers fell several hundred metres. They all died at the scene," a local police statement said on Tuesday.
'Not difficult'
On Wednesday, police gave further details about the victims.
They included a 14-year-old girl and her 20-year-old brother.
Their father survived. He had climbed most of the way but did not make the final attempt at the summit because he felt unwell.
He saw the tragedy unfold and raised the alarm immediately. Police said he was airlifted to safety by helicopter.
The three other victims were a 44-year-old man, his 17-year-old son and a 21-year-old friend.
A mountain guide who spoke to the party the night before their ascent said they might have slipped on ice hidden by fresh snow.
"There was rain up to about 3,500m and perhaps a little fresh snow [at the summit), so they probably slipped because there was ice underneath the snow," Arthur Anthamatten told the AFP news agency.
He had met the party at his refuge on the mountain, where they stayed on Monday night.
He said he and his colleagues were shocked by the scale of the accident.
"This kind of thing can happen, but never five people killed in one go. Two or three people perhaps, but this is not a difficult mountain," he said.
The Lagginhorn is the lowest of the 4,000m chain of mountains in the Alps. It is regarded as one of the easier peaks to climb.
Weather conditions in the area were said to be relatively good.