Europe's Olympic TV coverage may rest on one yellow cable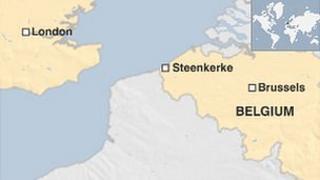 A small village in Belgium may have come close to cutting off the country's ability to view the London Olympics.
A yellow cable, which will carry all footage of the Olympics, was uncovered in Steenkerke as work to renovate the village square took place.
While workers did not know of its use, it became clear after the company that laid the cable alerted officials.
The cable, which carries television signals from London to Europe, passes under the Channel and under Steenkerke.
The Mayor of Steenkerke ordered the work to be put on hold until the last starting gun had been fired in the UK.
The BBC's Christian Fraser, in Brussels, said Mayor Jan Verfaillie was not about to miss out on the possible publicity the cable could bring.
Mr Verfaillie said many European camera crews had been to Steenkerke, a town with only 400 inhabitants, to see what had been uncovered.
"It's very quiet here... we are banking on some disaster tourism," he said.
Experts appear divided on just how important the cable actually is.
In 2008, internet services to the Middle East and the Indian subcontinent were widely disrupted when a deep sea cable was damaged.
A similar incident affected the internet in Bangladesh earlier in 2012.