France finds it hard to shed corrupt image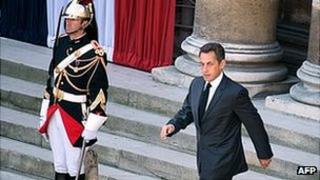 The whiff of corruption used to hang like a fog over French politics - but are things not supposed to have changed?
Just over two weeks after Nicolas Sarkozy lost the immunity from prosecution which he had enjoyed as president, police have searched his home and offices in Paris.
It is unprecedented for a former head of state in France to be subjected to a police raid in this way.
Mr Sarkozy himself was not present. He had left on a holiday to Canada the day before. But he was informed of the searches by telephone.
Investigators are looking for evidence to support allegations that he accepted an illegal contribution of 150,000 euros (£120,000) in cash to fund his election campaign in 2007.
That is not a huge amount for a campaign, but under French law, private individuals are allowed to contribute no more than 4,600 euros.
Mr Sarkozy strenuously denies the claim that his campaign managers took the money from employees of France's richest woman, the L'Oreal cosmetics heiress Liliane Bettencourt.
Blind eye
Nevertheless, it has been clear for some time that Mr Sarkozy was likely to be investigated over this and other allegations.
But few expected the authorities to act so quickly. Mr Sarkozy has not so far been placed under formal criminal investigation, but if enough evidence can be found, that would be the next step.
While Mr Sarkozy was still in office, another former president, Jacques Chirac, was convicted of corruption and given a suspended two-year sentence.
Some commentators say Mr Chirac was only able to avoid jail because of his age and poor health.
In the past, the French public was more willing to turn a blind eye to politicians' misdoings.
But the culture is changing - and increasingly people are demanding that their leaders be brought to account.
Yet so far no senior French politician convicted of corruption has been jailed.
Mr Sarkozy's former Foreign Minister, Alain Juppe, was also given a suspended sentence and a 10-year ban on holding public office which was later reduced to only one year.
Modesty rules
The new Socialist President, Francois Hollande, realising that people want greater transparency, has promised to clean up politics.
He made his ministers sign an anti-corruption pledge in which they gave their word that their conduct would be exemplary.
One of the reasons for Mr Sarkozy's unpopularity was that he was seen as being too close to the wealthy and privileged. Critics dubbed him the "bling-bling" president.
To get away from that, Mr Hollande has billed himself the "normal" president - and he is going out of his way to appear to live modestly.
He took the train to the first European summit he attended in Brussels, and the prime minister's office has done away with champagne receptions, serving white wine instead.
"We're seeing healthier ways of operating at the top," says Gerard Davet of Le Monde newspaper.
"I think we're making progress but we haven't yet reached the stage where top politicians are forced to resign if they get caught in a scandal."
Behaviour unchanged
Nevertheless, Eric Woerth, the man who allegedly took Liliane Bettencourt's cash on behalf of Mr Sarkozy, was forced to resign from his post as labour minister when he was embroiled in a conflict-of-interest and corruption scandal. Despite that, he was later re-elected as a member of parliament.
"The attitude of the public to corruption in politics is changing because of an alliance between tough, independent-minded investigating judges and the media," says Arnaud Miguet of France Televisions.
"They're bringing more sleaze to the surface and the public definitely wants to know more. But so far, it's not clear that the behaviour of politicians is changing that much, and they continue to suffer from a very bad image in the eyes of the public."
Many French people continue to take the traditional view that all politics is corrupt.
But in the age of the internet and satellite television, they know more about how public business is conducted in other countries.
Young people are particularly keen for politics to be cleaner.
If Mr Sarkozy is eventually convicted, as Mr Juppe was, he may well face a suspended sentence and a ban on holding office, but it would be unprecedented for a senior political figure in France to go to jail.