Portugal court rules public sector pay cut unconstitutional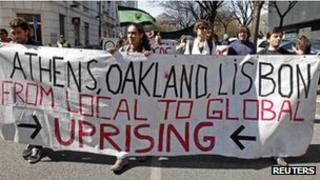 Portugal's Constitutional Court has struck down a key part of the government's deficit-cutting programme.
It ruled that the government's plan to limit extra holiday and Christmas pay for public sector workers was unconstitutional.
Currently, nearly all public and private sector employees receive an extra month's salary before the summer holidays and Christmas.
The government wanted to cut this to meet targets for a eurozone bailout.
Portugal needs to cut some 1.2bn euros (£900.5m) off its budget deficit by next year as part of a bailout deal from the European Union and International Monetary Fund.
It had planned to cut extra holiday payments for public sector workers and pensioners, or scrap them entirely for wealthier people.
Austerity pain
The measure had been described as temporary, but no end date had been set. Workers have already received a pay-slip without the added summer holiday pay.
The Constitutional Court ruled that because the measure only applies to the public sector, it infringes basic principles of equity. The government will not have to pay back the extra payments already missed.
Portugal's government will now have to find new ways of cutting its deficit. The BBC's Alison Roberts in Lisbon says that could involve a measure similar to one used last year - levying a tax on Christmas pay.
The country has already cut public sector wages and raised taxes to reduce its budget deficit and deal with its economic crisis.
Such measures have been praised by the EU and IMF, meaning Portugal has been eligible to receive the 78bn euros (£65bn) bailout fund agreed in May last year.
But correspondents say they have proved painful for ordinary Portuguese, with public sector workers hit particularly hard. Unemployment is at record highs and many people have faced a steep reduction in income.
The austerity measures have prompted mass protests and two general strikes in the past year.