Russian parliament gives first approval to NGO bill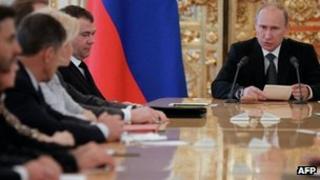 Russia's parliament has given initial backing to a bill requiring non-governmental organisations engaging in political activity and receiving foreign funding to register as "foreign agents".
That phrase would have to be included in all the relevant NGOs' materials.
The Kremlin says the bill is needed to protect Russia from outside attempts to influence internal politics.
But critics say the authorities are using the law to try to crush dissent.
Under the bill, foreign-funded NGOs involved in politics will also have to undergo financial audits and issue twice-yearly reports on their activities.
Failure to comply will be punishable by heavy fines or even a two-year prison sentence.
'Outside influences'
On Friday, the bill passed with a vote of 323 to four, with one abstention.
To become law it still requires two more readings and then the approval of the upper house (Federation Council) and President Vladimir Putin's signature.
The head of the presidential council for human rights, Mikhail Fedotov, had asked for the Duma debate to be postponed, saying there should first be a full-scale public discussion on the bill.
Mr Putin's United Russia party, which advocated the change, claims that foreign governments are using NGOs in Russia as cover to bring about political change.
Vyacheslav Nikonov, an MP for the party and one of the bill's authors, said: "There is so much evidence about regime change in Yugoslavia, now in Libya, Egypt, Tunisia, in Kosovo - that's what happens in the world, some governments are working to change regimes in other countries."
"Russian democracy needs to be protected from outside influences," he added.
The bill's critics dismiss that as Kremlin paranoia, and say the government is seeking to stifle civil society and whip up a "spy scare".
The term "foreign agent" carries a Soviet-era negative taint in Russia, correspondents say.
It was a foreign-funded NGO, Golos, which presented evidence of widespread vote-rigging in Russia's recent parliamentary and presidential polls.
At the time, the government accused the United States of using NGOs to try to influence the situation in Russia.
Election concerns
On Thursday, the director of Golos, Liliya Shibanova, warned that election monitoring could be considered a political activity according to the bill.
"If that is the case, it's a judicial matter. It's also a matter for the international community. If this isn't examined thoroughly by the Constitutional Court we'll have to go to the Strasbourg court [of human rights]," she said in a debate chaired by Duma Speaker Sergei Naryshkin.
The head of the Moscow Helsinki Group, a leading human rights NGO, also condemned the bill.
Lyudmila Alekseyeva said the group would "never, under no circumstances, register as a foreign agent".
"My organisation has to operate with foreign funding because the Russian government will never give it any money," she said.
Rafael Saakov of the BBC's Russian Service, who attended the debate, says there are reckoned to be more than 230,000 NGOs in Russia, the vast majority of which have nothing to do with politics.
Russian opposition activist Boris Nemtsov said the bill appeared to pose a serious threat to the work of Golos, Amnesty International and the anti-corruption group Transparency International.
"Since corruption, falsification and police abuses are foundations of the current regime, combating these organisations which expose the authorities' actions is a major, cornerstone feature," he said.