Mladic trial: Haunting testimony bridges two-decade gap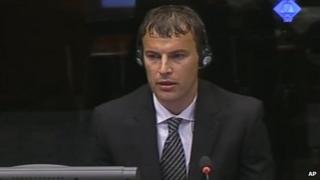 Elvedin Pasic was the first witness to give evidence in the war crimes trial of former Bosnian Serb army chief Gen Ratko Mladic at the International Criminal Court at The Hague. The BBC's Anna Holligan heard his testimony.
The events he was describing happened two decades ago.
Elvedin Pasic was a schoolboy at the time. But he spoke as though it were yesterday.
Initially, the smartly dressed survivor made valiant efforts to suppress his tears: conscious that the man accused of being responsible for his suffering - the deaths of his father and uncle - was sitting just metres away.
But his voice betrayed the emotional agony he was reliving in court.
As he recounted returning to his village, after the bombings and shellings that had forced his family to flee, Mr Pasic spoke in staccato bursts.
Homes had been burnt down; old people too frail to leave had been burnt to death; his pet dog had been shot by Serb soldiers.
The memory of finding his dog was too much. The witness, now 34, could no longer hide his anguish or the trauma of being forced to remember and relive that moment.
Throughout his testimony he never once looked to his left where the accused sat silently, watching.
Rare smile
Before this first witness was led into courtroom one, Ratko Mladic had at first appeared to be in a rather jovial mood.
Glancing out at the journalists watching him from the public gallery, he seemed surprised to see such a large audience.
He appeared pleased, sharing a joke and a rare smile with his defence team.
When Elvedin Pasic entered, the former Bosnian Serb commander sat forward on his chair, as though trying to get a closer look.
Elbows on the desk, chin in his hands, there was no obvious emotion. But he was paying attention.
Occasionally, he wiped his eyes and mouth with a tissue: a gesture that could be interpreted as an emotional reaction but was probably more physical, related to his poor health.
The survivor's testimony is significant insofar as it relates to one of the first massacres committed by Serb forces in Bosnia.
The prosecution aims to use personal recollections provided by the witnesses to prove beyond reasonable doubt that Ratko Mladic was involved in the planning and implementation of these crimes.
They have to show that he was responsible for the forces engaged in trying to ethnically cleanse - through evacuation or murder - an entire Muslim population from huge swathes of lands that the Bosnian Serbs wished to turn into an ethnically pure Greater Serbian Republic.
Today, the tears of one survivor showed that time has done little to numb the pain.