German court hears pleas against eurozone bailout fund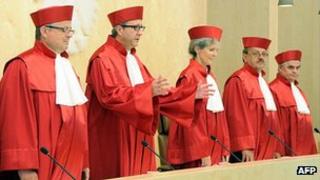 Germany's Constitutional Court is hearing objections to the new EU permanent rescue fund, with petitioners hoping to block its introduction.
German lawmakers backed the European Stability Mechanism (ESM) in June, but President Joachim Gauck will let the court rule before he signs it into law.
Finance Minister Wolfgang Schaeuble warned the judges that delaying a ruling would carry economic risks.
Various groups want the court to block the ESM and the EU's fiscal treaty.
The court has not yet said when it will make its final decision.
"A significant postponement could mean considerably more uncertainty in the eurozone markets," Mr Schaeuble warned the judges.
The judges have previously ruled that the government must consult parliament more thoroughly before committing Germany to EU bailouts.
Presiding judge Andreas Vosskuhle said the court's examination could go beyond the normal timespan for a fast-track hearing. Court sources say that could mean it takes up to three months.
Just under two weeks ago, the German parliament voted to participate in the new 500bn-euro (£404bn; $635bn) rescue fund and to enshrine the fiscal treaty in German law.
The new measures are fundamental to the 17-nation eurozone's efforts to tackle the debt crisis and stabilise the euro.
The ESM was supposed to start operating this month, but there have been ratification delays in several countries.
Germany will account for 27% of contributions to the ESM, paying out 21.7bn euros in cash and providing guarantees worth a further 168.3bn euros. So German ratification is essential.
The ESM can start operating once member countries representing 90% of the fund's capital commitments have ratified it.
The head of the Bundesbank, Jens Weidmann, told the judges that financial markets had already "partly priced in" a delay to the ESM's introduction.
He also said the temporary bailout fund, the European Financial Stability Facility (EFSF), would be adequate to help Spain and Cyprus, the German newspaper Frankfurter Allgemeine reported.
In Germany there are so many objections that the court in Karlsruhe is sitting in a cinema to accommodate all the lawyers and participants.
The Left party (die Linke) argues that the fiscal treaty, which makes German spending dependent on revenue, has a clause saying it should never be rescinded - and it considers that to be unconstitutional. It also fears that the treaty would prioritise EU requirements for austerity over social programmes.
The German association of family businesses argues that the new rescue fund "threatens the constitutionally protected property rights of all German citizens" by giving Brussels power to spend their money.
All 27 EU states apart from the UK and Czech Republic accept the fiscal treaty - officially called the Fiscal Compact. It is due to take effect in January 2013.
The aim is to compel eurozone countries to respect budget rules and avoid incurring debts like those undermining the euro now.