Jellyfish invade Spain's Costa del Sol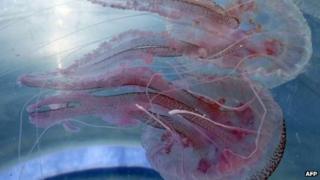 Holidaymakers on Spain's Costa del Sol have been warned of large numbers of stinging jellyfish in seas around the Malaga coastline.
Spain's tourism ministry said overfishing, winds and ocean currents had caused blooms of jellyfish to gather around coves and beaches.
Red flags are being raised when a bloom is seen close to popular areas.
Other reports have said about 1,000 people in Malaga been treated for jellyfish stings.
"The 'blooms' of jellyfish rarely last more than 48 hours and in the vast majority of cases jellyfish stings are harmless," Spain's Tourist Office said in a statement, without giving details of the breed of jellyfish involved.
Invasions of mauve stinger jellyfish on Spain's coastal waters are not unusual and have been reported in the past.
In August 2010 beaches in Alicante and around San Sebastian in the north were hit by swarms of the scyphozoa, including more venomous jellyfish such as the Portuguese man o'war.