Russian activist Navalny targets Putin strongholds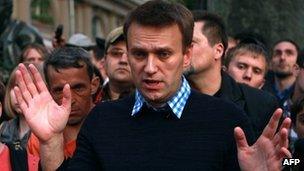 Russian opposition leader Alexei Navalny has launched a new project called "the Good Machine of Truth" to spread his message to the many Russians who do not use the internet.
Most Russians rely on state-run television rather than the internet for their news, and the three main channels are loyal to President Vladimir Putin.
Mr Navalny made his name as a blogger, using online activism to raise awareness about corruption in government and state corporations.
His new project is a response to Mr Putin's emphatic victory in the March presidential election, which owed much to the power of state television.
Last December's parliamentary election was widely seen as a moral victory for the anti-Kremlin opposition and a vindication of the power of internet activism.
Mr Putin's United Russia party was returned to power, but with a significantly reduced majority. Moreover, its victory was tarnished by numerous allegations of vote-rigging that led to a series of mass protests, mainly in Moscow.
Mr Navalny was at the heart of the internet activism during the election campaign, using his popular blog to urge people to vote against United Russia, which he branded the "party of crooks and thieves". That phrase became the campaign's defining slogan.
He exulted in what he called the defeat of the "absolute monopoly" of television, which he described as the "zombie box". "We have learnt how to get information to millions of people without it," he wrote on his blog on 5 December.
But Mr Putin's victory in the presidential election was a reality check - both for the opposition and for the cheerleaders of internet activism.
Mr Navalny himself acknowledged shortly afterwards that the "zombie box" and other state-controlled media had played a key role in allowing Mr Putin to retain power, by promoting a few simple messages - that Mr Putin had saved Russia from the disorder of the 1990s and was a guarantor of stability.
Mr Navalny said that those messages were the product of the "Bad Machine of Propaganda". In response, he announced the launch of "the Good Machine of Propaganda", which he later rebranded "the Good Machine of Truth" (GMT).
The basic aim is to get the anti-Putin opposition's message to the general TV-viewing public. A 2011 poll by the Public Opinion Foundation (FOM) suggested that some 92% of Russians identify TV as one of their main sources of news.
The total internet audience in Russia is currently around 70 million - half the total population. But as recent research by TNS Gallup found, only just over eight million get their news from the internet.
Mr Navalny is mobilising activists for campaigns that have both online and offline components - posting on various social media sites, but also using more traditional methods, such as house-to-house canvassing and leafleting.
Early GMT initiatives included a video that urges people to stamp banknotes with political messages, and a campaign to galvanise opposition to the Krasnodar region's governor, Alexander Tkachev. He has drawn flak recently over his handling of the flood crisis in his region.
The latest GMT initiative urges activists to distribute posters purporting to come from United Russia, which announce that household utility charges are rising more in regions where Mr Putin's party did less well in the elections.
A specially created website allows users to customise posters for any of the 31 regions where the vote for United Russia in December was below 40%.
The campaign appears to have got the party rattled. It denounced the stunt as a "cynical and blatant violation of the law" and said it would push for a criminal investigation.
Mr Navalny claims that a bill massively increasing the fines for defamation, just approved by Russian MPs, is a direct response to his new campaign.
The increases in household utility charges are politically sensitive. Normally they come into force in January, but this year they were delayed until 1 July - apparently so as not to influence the outcome of the presidential election.
Mr Navalny has a proven track record of mobilising activists via the internet.
In his early campaigning days he got hundreds of users to bombard prosecutors and police with complaints about alleged corruption in state-run corporations and government departments.
And his Rosvybory site recruited several thousand volunteers to act as observers in the March presidential election.
He also appears to have had some early recruiting success with the GMT initiatives.
He reported that around 9,000 internet users had posted more than 100,000 online letters as part of the Krasnodar campaign. He also said more than 35,000 posters had been downloaded in the first 24 hours of his campaign over the utility bill hikes.
But it is not clear whether these initiatives are making an impact on their target audience.
Critics of the Krasnodar campaign said that getting people to bombard social network users with pro forma letters was little different from spamming and was likely to be treated as such.
Sergey Smirnov, political correspondent at the liberal news website Gazeta.ru, provided anecdotal evidence suggesting the campaign had in fact been a flop. He quoted one of the activists as saying he had sent out 60 letters, but received just one response.
Attempts to spread the opposition message to the provinces face two main obstacles.
First, Mr Putin is still relatively popular. A recent poll commissioned by Associated Press found that overall 60% of Russians had a favourable opinion of him, though the figure for Moscow was just 38%.
Second, provincial Russians do not seem to be up for a political struggle. Two recent mayoral elections in Krasnoyarsk and Omsk produced turnouts of 21% and 17%, respectively. In both cases, United Russia candidates achieved comfortable victories.
On the other hand, any failure by local and regional authorities to respond effectively to crises like the recent floods in Krasnodar can only play into the hands of their opponents.
BBC Monitoring selects and translates news from radio, television, press, news agencies and the internet from 150 countries in more than 70 languages. It is based in Caversham, UK, and has several bureaux abroad. For more reports from BBC Monitoring, click here
Related Internet Links
The BBC is not responsible for the content of external sites.