Laszlo Csatary: Is Hungary's Nazi suspect worth pursuing?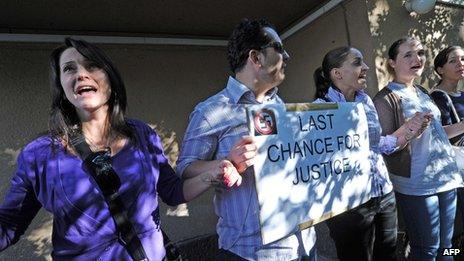 Anti-fascist protesters and journalists are besieging the Budapest flat of Laszlo Csatary, 97-year-old former Hungarian police officer accused by Nazi-hunters of crimes against Jews in the Second World War.
Csatary was discovered by journalists from the British tabloid newspaper the Sun, but controversy surrounds his exact role in the city of Kosice, now in eastern Slovakia, which in 1944 was part of Hungary.
Ephraim Zuroff, head of the Los Angeles-based Operation Last Chance, which tracks down former Nazis, accuses Mr Csatary of responsibility for the deportation of 15,700 Jews from the Kosice ghetto to the Auschwitz death camp in May 1944.
But Hungarian researchers say the evidence against him is flimsy, and the likelihood of a successful prosecution small.
"Csatary was a small fish. I could name 2,000 people responsible for worse crimes than he was," said Laszlo Karsai, Hungary's pre-eminent Holocaust historian, himself the son of a Holocaust survivor.
"The money spent hunting down people like him would be better spent fighting the propaganda of those who so energetically deny the Holocaust today."
Last year a Hungarian court found another alleged Hungarian war criminal, Sandor Kepiro, not guilty of crimes against Jews and Serbs in the Serbian city of Novi Sad in 1942. The cases show how hard it is to establish responsibility for atrocious crimes, 70 years after they took place.
The ghetto in Kosice, then known as Kassa, and part of Hungary, was the first to be established after Germany occupied Hungary in March 1944. One of the main aims of the occupation was to murder Hungary's 600,000 Jews.
Hungarian police, gendarmes - rural police - and railway officials co-operated with German troops, sometimes enthusiastically, to carry out the deportations, although there were also cases of Hungarian officials helping Jews escape. Almost one in 10 of those who died in the Holocaust, and one in three killed at Auschwitz, was a Hungarian Jew.
The particular horror in Hungary was that by 1944, Nazi Germany was already facing defeat. It became a race against time to murder as many Jews as possible before the war was finally lost.
Immediately after the war, the Committee to Help the Deportees interviewed 5,000 Jewish survivors in Hungary.
One witness from the Kosice ghetto, 18-year-old "F P", said of Csatary, "he hit whoever he found there with a dog-whip. On one occasion he ordered... every young girl to come and dig out thick wooden stakes from the ground with their bare hands. Even the SS soldiers were scandalised by this."
Kosice was returned to Czechoslovakia in February 1945, and Laszlo Csatary was sentenced to death in absentia by the Czechoslovak Peoples' Tribunal in 1948.
Although still legally valid, the verdict of the people's courts is regarded as dubious today, because of the strong political influence of the communist party on judges.
Csatary moved to Canada as a refugee, and lived under a pseudonym until he was stripped of his Canadian citizenship in 1997.
Then, according to Nazi hunters, he disappeared - until discovered by the British reporters last Sunday in a quiet residential district at the foot of Naphegy hill in Buda.
The Hungarian authorities appear to have known his whereabouts since at least last October, when the chief prosecutor entrusted Tibor Zinner, a historian of law, to research his case in the Hungarian court archives.
According to his report, delivered after a month's research, the only mention of Csatary came in the trial of his commander, Gyorgy Horvath, who was the deputy chief of police in Kosice in 1944. One witness also mentioned Csatary's particular cruelty.
Horvath was sentenced to death by the Hungarian People's Court in 1945 for the same crimes for which Csatary is now accused. This was commuted to life imprisonment by presidential decree in 1946. Of 400 death sentences issued by Hungarian Peoples' Courts for war crimes, 181 were carried out.
"There are three possible ways forward now," Mr Zinner told the BBC. "To hand Csatary over to Slovakia, to ask Slovakia for any files they have and begin a trial against him in Hungary, or to allow nature to take its course. He is 97 after all."
"I do not want in any way to defend crimes against humanity, which never expire, but what Zuroff is doing is simply a circus act - perhaps out of revenge that he didn't get a conviction in the Kepiro case."
Mr Karsai believes the evidence against Csatary should be seriously reviewed, despite his criticism of the Nazi-hunters. The ghetto of Kosice existed for a month, and is unusually well-documented, both in the city archives in Kosice, and in the documentation of the Horvath case in Hungary.
Another way forward would be to research Csatary's earlier war record - as a policeman in Kecskemet in 1941, in Subotica in 1942, and in Kosice from 1943 - Mr Karsai suggests.
The Office of the Budapest Prosecutor has so far only issued a terse communique: that it is investigating the case.
Related Internet Links
The BBC is not responsible for the content of external sites.