Peter D Quinn: Arrest warrant issued for Sean Quinn's nephew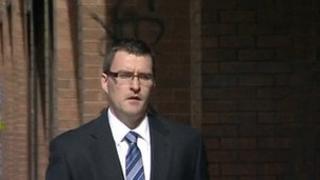 An arrest warrant has been issued for Peter Darragh Quinn, a nephew of the bankrupt former billionaire Sean Quinn.
The judge made the order after he failed to turn up at the High Court in Dublin on Friday to be sentenced.
Sean Quinn, his son, Sean and nephew Peter Darragh, were found to be in contempt of court in June.
Sean Quinn snr and his son were present in court. In June, the men were given three weeks to comply with a series of court orders before their sentencing.
The judge ruled last month they had put international property beyond the reach of the Irish Bank Resolution Corporation (IBRC), in breach of a court order.
Judge Elizabeth Dunne issued the arrest warrant on Friday after being told that attempts to contact Peter Darragh Quinn about his absence from court because of a reported illness had proved fruitless.
His solicitor who saw him at 03:00 BST on Friday indicated that he was well at the time.
Lawyers for the IBRC - the former Anglo-Irish Bank - told the court that they had received documents at 04:00 BST on Friday from the Quinns' legal team but their initial view was that the family was continuing to stall on handing over property mainly in Russia and Ukraine.
Arrest order
They also said it seemed as though the Quinn trio had decided it was better for them to go to jail if it meant keeping their property empire.
Lawyers for the Quinns outlined on Friday morning what efforts the family were making to make redress.
A lawyer for the Quinn family argued that jailing the men was the last thing that should be done if the bank wanted the asset transfers reversed.
In June, the High Court in Dublin found that the Quinns put almost half a billion euro worth of assets beyond the reach of the former Anglo-Irish Bank.
Anglo was bailed out by Irish taxpayers and is now controlled by the Irish Banking Resolution Company (IBRC).
The IBRC's function is to recover assets on behalf of taxpayers and, in total, it claims the Quinns owe it about £2bn.
At the height of his success, Sean Quinn was the 12th richest man in the UK and the richest in Ireland.
He had an estimated family fortune of £3.05 billion in 2007.