Germany ordered to boost asylum seeker benefit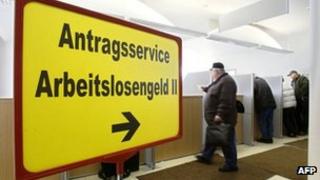 The German government has been ordered by the country's highest court to pay a 50% rise in benefits to asylum seekers.
For two decades the payout has been less than that paid to native Germans.
The Constitutional Court ruled the current benefits level of 224 euros (£175; $274) per month, or about 7.50 euros a day, was insufficient.
It said it did not meet the constitutional stipulation that everybody should be entitled to a "humane subsistence level".
The court said that Germany's 130,000 asylum seekers should receive 336 euros a month, compared to the minimum welfare payment to German citizens of 374 euros.
It ordered the increase be paid immediately, pending legislation in parliament.
"The Basic Law guarantees subsistence-level support for a life in decent conditions as a human right," the court said.
"This basic right applies to German citizens and foreign citizens living in Germany in equal measure."