Firefighters battle Tenerife forest blaze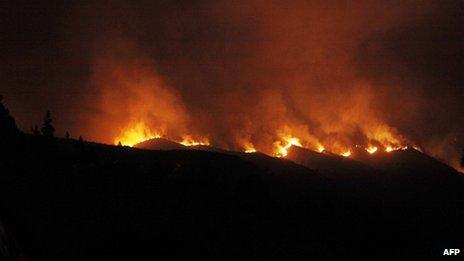 Firefighters are battling a blaze on the Spanish island of Tenerife which caused the evacuation of hundreds of residents from a town in its path.
At least 1,800 were forced to flee the town of Vilaflor on Tuesday evening by the fires, which have been raging since Sunday.
The fire has affected at least 2,000 hectares of land, local officials say.
Authorities have said the fires have not affected the popular tourist resorts on the island's coasts.
Inhabitants in the village of Chirche were also evacuated on Wednesday morning due to strong smoke from the fires, local media reports say.
The fire is reported to have reached the edge of the Teide National Park.
However, the park itself was not threatened, emergency services spokeswoman Carmina Lorenzo told the Associated Press.
Helicopters were being used to dump water onto the hillsides affected.
Another fire on the neighbouring island of La Palma which spread over around 500 hectares was brought under control on Tuesday afternoon, officials said.
Spain has been hard hit by forest fires this year after experiencing its driest winter in 70 years.