Four held over attacks on Russia Muslim leaders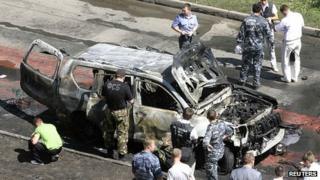 Russian police have arrested four men over the killing of one top Muslim cleric and the wounding of another in the republic of Tatarstan.
The Mufti of Tatarstan, Ildus Fayzov, was injured when his car was blown up in the city of Kazan on Thursday.
A former deputy mufti, Valiulla Yakupov, was shot dead at about the same time.
One of those arrested runs a body that organises Hajj pilgrimages to Mecca. He is allegedly in dispute with the mufti.
A spokesman for the Russian investigators, Vladimir Markin, said the attacks were believed to be linked to the mufti's hard line against radical Islam in Tatarstan. The republic, in central Russia, has a large Muslim population.
Mufti Fayzov had also seized cash from the Idel-Khadzh organisation in charge of sending Muslims to Mecca, he said.
"Based on this, a conflict arose between the mufti and the head of this organisation, who made threats against Fayzov," he told Rossiya 24 television.
The suspects were named as: Idel-Hadzh director Rustem Gataullin (57), head of the Vakf parish Murat Galleyev (39), Ayrat Shakirov (41) and Azat Gaynutdinov (31).
Mr Yakupov is reported to have been shot as he left his home but managed to reach his car before he died.
He was the head of education at the Spiritual Board of Muslims of Tatarstan.
Islamists have carried out a violent campaign against Russian authorities, declaring their intention to establish an Islamic caliphate.
But their activities have been concentrated mostly in the mainly Muslim republics of Chechnya, Dagestan and Ingushetia in the North Caucasus.
Tatarstan has been much more peaceful and is often held up as an example of religious tolerance in Russia.