Russia: Controversial NGO bill becomes law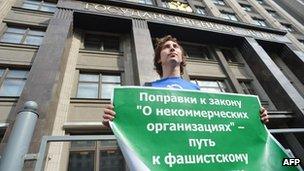 President Putin has signed into law a controversial bill forcing foreign-funded non-governmental groups (NGOs) involved in political activity to register as "foreign agents" in Russia.
The Kremlin has said the law is needed to protect Russia from outside attempts to influence internal politics.
But critics think the authorities will use the law to try to crush dissent.
They say it aims to prevent such NGOs denouncing vote-rigging and other abuses.
The law requires the phrase "foreign agents" - with its negative Soviet-era connotation - to be included in all materials produced by all affected NGOs.
Such NGOs would also have to undergo financial audits and issue twice-yearly reports on their activities.
Failure to comply will be punishable by heavy fines or even a two-year prison sentence.
Vladimir Putin's United Russia party, which advocated the change, has claimed that foreign governments are using NGOs in Russia as cover to bring about political change.
Critics have said the legislation appears to pose a serious threat to the work of independent election monitor Golos, human rights group Amnesty International and the anti-corruption group Transparency International.
The US State Department earlier expressed "deep concern" about the new law - but was swiftly reproached by Moscow for "gross interference".
Related Internet Links
The BBC is not responsible for the content of external sites.