Explosion in Turkey hits Iraq oil pipeline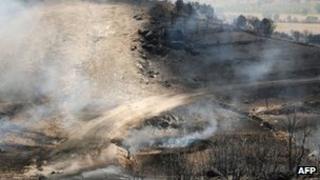 An explosion has shut down twin pipelines that carry oil from Iraq to the Mediterranean.
The blast happened on Friday night on a stretch of the Kirkuk-Ceyhan pipeline in the town of Midyat, in south-east Turkey near the Syrian border.
Firefighters have now put out the fire, but it is unclear when the pipeline - which carries a quarter of Iraq's oil exports - will be back online.
Iraqi officials blamed Kurdish separatists for the explosion.
Separatist group the Kurdistan Workers Party (PKK) has claimed responsibility for other attacks on oil and gas pipelines, sometimes cutting oil flows from Iraq for days.
However, it has not yet been confirmed that this explosion was the result of sabotage.
Friday's attack only hit the pipeline which carries oil from the northern Iraqi city of Kirkuk to the Turkish port of Ceyhan, but a second pipe which runs parallel was also shut down as a precaution.