Ex-Anglo Irish Bank executives in court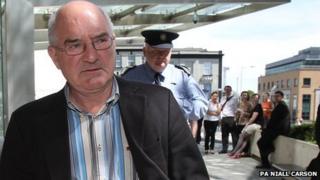 Two former senior executives of the Anglo Irish Bank have appeared in court in Dublin over alleged financial irregularities at the bank.
Willie McAteer, 60, who was arrested on Monday was the second most senior executive at the bank before his resignation in January 2009.
Mr McAteer is facing 16 charges, under Section 60 of the Companies Act.
They are in relation to a failed attempt to prop up Anglo's share price after a stock market collapse.
Money was given out by the bank to a select group, nicknamed the Maple 10, for the purchase of shares in the bank as its value plummeted in 2008.
Also in court was 50-year Pat Whelan from Malahide, County Dublin, a former head of lending and operations at the bank.
Major figures
The charge against Mr McAteer, of Rathgar, Dublin, is that he gave unlawful financial assistance in connection with the purchase of Anglo shares to 16 people in July 2008.
They include six members of the Quinn family, some of whom are embroiled in increasingly bitter lawsuits with the rebranded Anglo, the Irish Bank Resolution Corporation (IBRC), as it chases debts of 2.8bn euros run up by former billionaire, bankrupt Sean Quinn senior.
His son Sean junior, imprisoned on Friday for contempt of court after trying to hide 500m euros of property assets from the bank, was one of the 16.
The others included Sean senior's wife Patricia, and his children Colette Marie, Aoife, Ciara and Brendan.
The other investors were Anglo customers and major figures in the world of property and development.
They were Belfast-born developer Paddy McKillen, Mennolly Homes's Seamus Ross, auctioneer Brian O'Farrell, John McCabe of McCabe Builders, developer Gerry Maguire, Belfast's Patrick Kearney, Gerry Gannon of Gannon Homes who had a stake in the K Club Ryder Cup golf resort, Kildare businessman Jerry Conlan, Sean Reilly of the McGarrell Reilly firm and developer Joe O'Reilly.
Rescue
The court was told Mr McAteer made no reply when the charges were put to him in the Bridewell Garda station in Dublin city centre.
Mr McAteer was granted bail until 8 October by Judge Cormac Dunne with conditions, including a 1,000 euros bond of his own and a 10,000 euros cash surety from wife Maria, who was also in court.
The former banker was ordered to hand in his passport.
Mr Whelan, who faces the same charges, was granted bail on condition he handed in a 1,000 euros bond of his own with an independent surety of 10,000 euros
He was ordered to reside at his current address and to give 48 hours notice if he is travelling anywhere outside the UK as he is back and forth to London on business.
Anglo was nationalised in 2009. Its rescue cost Irish taxpayers about 30bn euros.