Misery continues weeks after Russia's monster flood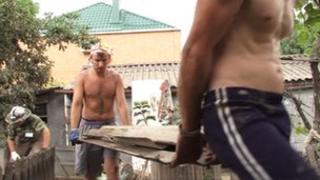 Life is slowly returning to normal in Krymsk, a town in southern Russia devastated by floods earlier this month.
The streets of what was once a quiet, provincial place are filled with roar of heavy trucks. They are moving away waste brought by the devastating floods on 7 July. Bits of walls, furniture, personal possessions. All this was turned into waste after the central part of town was submerged under at least 3m (10ft) of water.
Two weeks ago the town was largely alone with its grief but now the massive clean-up is shared between emergency services, the army and hundreds of volunteers, who travelled to Krymsk from across Russia.
Krymsk is becoming noticeably cleaner. In many households, shoes and slippers have replaced knee-high rubber boots as the footwear of choice.
But for some locals initial shock has given way to desperation as they see their entire livelihoods falling apart.
One of those is Nadezhda Selemeneva, a spry, cheerful woman in her 50s. When I saw her right after the flood, she said the main thing was being alive. Now, seeing her clay-walled house drying and crumbling, she says it makes her feel worse even than the slime-filled rooms.
A few days ago the regional governor stopped by her house. The governor's posse filled the yard and Ms Selemeneva showed the bureaucrats the crumbling foundation of the house.
Before speeding away in a cavalcade of cars, the governor promised more compensation. After the first, cautious offer of monetary help, authorities are increasing assistance to the victims.
But so far Ms Selemeneva and many of her neighbours have not seen even the initial 10,000-rouble (£198; $308) payout promised to everyone affected. "Let them sort out those 10,000 first," she says. "For now it's all up in the sky and we can't make any plans."
Communication gap
Elektron FM, a small privately owned radio station in Krymsk, gives voice to people like Ms Selemeneva who complain about hold-ups in payouts or confusion in receiving aid.
This has put Elektron on a collision course with local authorities, who accuse the station of spreading rumours or giving airtime to unfounded allegations against local bureaucrats.
The station's editor, Valery Donskoy, is still disturbed by the fact that no local official managed to cross 300m between the town's administrative offices and the radio station studios to give warning before the flood arrived. He believes such a warning, broadcast by the most popular local radio station, could have saved lives.
The Russian authorities now admit the town was not given sufficient warning. This took the lives of more than 150 Krymsk residents.
I asked Donskoy whether the new authorities, installed in the aftermath of the floods, had felt the need to communicate directly to the residents.
Not much, according to Donskoy. "Either they have nothing to say or they have chosen to ignore this very popular station," he says.
"All of the social help is done by the volunteers," he says. "I can't understand why the local authorities are unable to organise this."
Local officials declined to attend a live chat show hosted by the BBC in Krymsk but privately they said that Elektron was distorting the situation.
Volunteers
It is in the volunteer camp on the outskirts of the city where the scale of the aid effort in Krymsk becomes visible. One after another, large lorries roll in. They contain clothing, baby food, water and medicines, all donated by people living hundreds, even thousands, of miles away.
An ant-line of volunteers forms between trucks, passing boxes by hand. Nearby stands a tent where residents can pick up what is needed, leave requests for deliveries or book a team to help on site.
Tolya Khutsishvili, coordinator of Camp Kind as it is called, says volunteers often do a better job than the soldiers. "When we saw a disaster on that scale we thought the state machine would roll into action, even if it's rusty at times, but we saw we're better co-ordinated and we still are," he says.
Mr Khutsishvili and others say there is still an acute lack of the most basic supplies like water, bread and clothing. This, again, contradicts the official line that the basic necessities have been satisfied for most of the victims.
But slowly emphasis in help is shifting towards social work and helping affected residents, many of them elderly, to deal with official paperwork, often tangled.
"The town is in very bad shape," says Maxim Chernousov, one of the volunteers helping to clean up a patch of land near one of the houses.
"The basic clean-up will probably be done by September but this place needs all sorts of help - from legal services to construction," the volunteer adds.