France helicopter crash kills six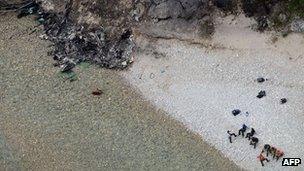 Six people have died in a helicopter crash in a mountainous area of Provence in southeastern France.
The aircraft came down at around 13:40 local time (11:40 GMT) in the Verdon Gorge, an area popular with hikers.
The helicopter, a Cougar, belonged to aviation company Eurocopter and was on a test flight involving pilots and engineers, officials say.
Witnesses said the helicopter had hit an electricity cable before plunging down onto the river bank.
Firefighters and a team of climbers were despatched to the scene, as well as a medically-equipped helicopter.
The helicopter came down in one of Europe's best known river gorges, which runs 700m (2,300 ft) deep.
Police spokesman Benoit Gounine told reporters that rescuers had trouble reaching the site.
"The accident happened in a very difficult place to access, which complicates our work," he said.
Investigations are taking place to determine the cause of the crash.
French radio station Europe 1 said the Cougar had been destined for the Albanian army and was being followed by a second helicopter at the time of the crash.