Uzbek assassination plot rocks quiet Swedish town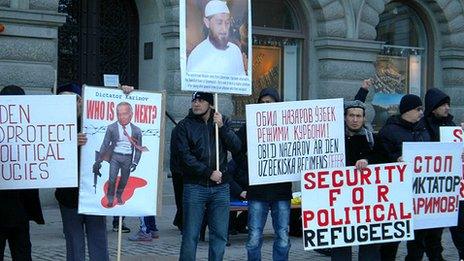 A court in Sweden has cleared a man and woman from Uzbekistan of aiding an assassination plot reminiscent of Cold War undercover operations.
The court in the northern Swedish town of Ostersund said there was insufficient evidence to link the pair with the attempted murder of dissident Uzbek Muslim cleric Obid-kori Nazarov, a well-known critic of the authorities in his homeland.
Mr Nazarov was shot in the head in February and is still in a coma.
The attack sent shockwaves through Stromsund, a small town of just a few thousand inhabitants in the sparsely populated north of Sweden.
A 600km (375-mile) drive from Stockholm, it is known for its wildlife and nature tourism. Until recently, suspicions of political murder were something unheard of here.
But now all that has changed.
Stromsund is also home to hundreds of Uzbek asylum seekers who have fled the repressive government in their home country, thousands of miles away.
Just about all of them are devout Muslims who fell foul of the authorities for practising their religion outside the control of a deeply suspicious state.
Human rights organisations accuse Uzbekistan of imprisoning thousands of Muslims who have been depicted as extremists seeking to overthrow the government and set up an Islamic state.
Mr Nazarov, 54, had a reputation for his independent thinking and strongly-held points of view. As such he was a prime target of the Uzbek security services - ever since he arrived in Sweden in 2006 he feared that their long arm might find him.
When he was shot in the head outside his home on 22 February, his followers concluded that those fears had come true.
Mr Nazarov gained prominence as a conservative, independent cleric in Tashkent, capital of Uzbekistan, in the early 1990s.
His emotional sermons touched on social and economic problems and human rights.
They proved popular with a growing audience of thousands of followers, but President Islam Karimov's administration soon saw him as a threat to the secular regime.
In 1998 an arrest warrant on extremism was issued, forcing Mr Nazarov into hiding in neighbouring Kazakhstan until the UN High Commission for Refugees approved his refugee status eight years later.
After his arrival in Sweden, Mr Nazarov did not stop criticising the Uzbek authorities for repressing ordinary Muslims.
The government in turn continued to portray him as an enemy of the state, accusing him of planning bomb attacks in Uzbekistan and being a spiritual leader of the Islamic Movement of Uzbekistan, which is listed by the US as a terrorist organisation.
Mr Nazarov denied such links. His fellow refugees in Sweden say that even in exile he received numerous threats.
When Uzbek opposition supporter Fuad Rustamhojaev was killed in Russia in 2011, the cleric - or imam - asked the authorities for protection. But police assured him that he was safe in Sweden.
The inaction was criticised by the prosecuting court, which said it was sad that a person granted refugee status did not receive adequate protection in the country that was supposed to keep him safe.
The judge was careful when commenting on those behind the plot, saying the attempt on Mr Nazarov's life was in all probability due to his political beliefs and was the work of an organisation outside Sweden.
Johan Rainer, the attorney for Mr Nazarov's family, was more blunt: "It is obvious that this was an attempted assassination that has been ordered by the Uzbekistan security services," he told the BBC. "I'm absolutely convinced that that is the case."
A case which brought political violence to small-town Scandinavia made regular headlines in the Swedish media.
"The city where this happened, it's just a small community, very small and safe and calm," Mr Rainer told BBC Uzbek.
"And for such a thing to happen the town of course has received a lot of attention in the local and national press. A lot of media have attended the trial which has been broadcast on national TV and featured in newspapers."
Followers of Mr Nazarov - who travelled 100km (62 miles) from Stromsund to attend every day of the trial - hope the actual killer will be found.
"The fact that justice has not been established upsets me a lot," one told the BBC.
The prosecutor, Krister Petersson, says he will appeal against the acquittals.
"I'm personally a bit surprised by the verdict, because I think that we have a strong case. I will study it carefully and most probably I will appeal against this verdict."
Whatever the outcome of any appeal, the actual killer now seems unlikely to be apprehended.
Related Internet Links
The BBC is not responsible for the content of external sites.