French MPs throw out proposal to audit their expenses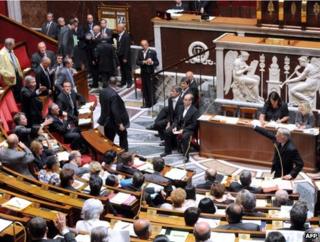 Members of the French parliament have thrown out a proposal to audit their allowances as the government prepares austerity measures for the economy.
They voted four to one to reject the bill which would have each deputy account for his or her annual allowance of 76,944 euros (£60,000; $93,000).
One deputy who opposed the bill said it would impinge on parliamentary freedom.
The bill's sponsor predicted an eventual expenses scandal like that which gripped Westminster in 2009.
A French study conducted in June suggested that, on average, those working for the French parliament enjoyed a 77% higher income than their counterparts in the British House of Commons or the German Bundestag.
The French are fiercely defensive of the benefits they have earned and none more so than the members of the National Assembly, the BBC's Christian Fraser reports from Paris.
Bars and cigars
There have been several recent rows over expenses.
Last month the Mediapart website exposed the Socialist member for the Ardeche region, Pascal Terrasse, who had reportedly charged to his expenses account foreign holidays for his family and private bar bills. Mr Terrasse said he sometimes muddled his credit cards.
Under the last, conservative government, Christian Blanc, state secretary for the Paris region, was forced to stand down when it emerged he had put 12,000 euros spent on Cuban cigars on expenses.
The sponsor of the new bill, centre-right MP Charles de Courson, had proposed that members should declare to the taxation authorities that part of their expenses which was being used for personal rather than professional purposes.
Referring to the British parliamentary expenses scandal, he said: "Knowing what I do of how some colleagues use their allowance, I am sure that one day there will be such a scandal in France."
France's conservative daily Le Figaro notes that the country's new Socialist President, Francois Hollande, has urged MPs to lead by example as his government makes cuts to reduce the budget deficit.