Italians bid to adopt beagles rescued in cruelty case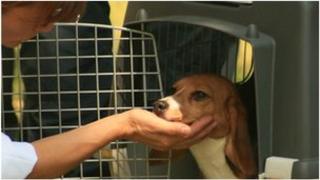 Italian dog lovers have begun coming forward to give homes to more than 2,000 beagles that were confiscated in a suspected animal cruelty case.
The authorities took the dogs from a farm near Brescia, in northern Italy, which was breeding them for use in lab experiments.
Activists say the beagles were being kept in overcrowded huts and dozens had died in unexplained circumstances.
The farm at the centre of the case has denied any wrongdoing.
The BBC's Alan Johnston in Rome says Green Hill farm has been the focus of controversy for several years.
Earlier this year activists broke into the facility and took away several dogs in what they called a liberation.
Green Hill sued the activists, and animal rights group Legambiente counter-sued.
Judges entered the farm as part of their investigation, and ordered the dogs to be seized.
They are due to decide next week whether the facility should be closed.
'Absurd' decision
Antonio Morabito of Legambiente said there were "several irregularities" with the way the dogs were being kept.
"There were unexplained, unclear deaths of more than 100 animals. Several illegitimacies inside the premises that the court will judge," he said.
A spokesman for Green Hill denied the animals were kept in bad conditions.
"Italy follows European regulations on the matter and in repeated inspections of the premises we were certified by authorities," he said.
"We disagree with the liberation of the dogs before a final decision is reached by the courts. If they, next week, decide that the confiscation of the premises should not proceed, then all the dogs will be gone. It's absurd."
Our correspondent says potential owners are being warned that the dogs may have behavioural problems because they have grown up in captivity and know nothing of the outside world.
But many are puppies, and the activists say this will help them adapt to new homes.
Mr Morabito said more than 3,000 people had already applied to adopt a dog.