Portugal drugs: Nine held in 'hashish smuggling' raid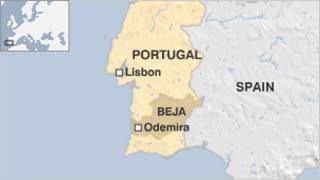 Nine people have been arrested and one other killed in a joint counter-narcotics operation by the Portuguese navy and air force, police say.
Three tonnes of hashish were seized in the raid, on the coast of the southern Beja district.
One of the suspects died when he fell out of a speedboat and was struck by a propeller, police said.
The operation is aimed at breaking up what police say is a ring trafficking hashish from Morocco to Spain.
The nine men arrested during Saturday's raid - five of them Portuguese and four Spanish - were questioned over the weekend and are being held on remand, Portugal's Judicial Police told a news conference.
The suspects, aged between 22 and 67, were surprised by the authorities as the consignment was being brought on to land, Portuguese media reported.
The operation, near the town of Odemira, was still going on and further arrests were expected, they said.
The BBC's Alison Roberts, in Lisbon, says the location of the arrests appear to be the latest sign that smugglers have recently changed their routes in response to a crackdown by Spanish authorities.