Golden Dawn nationalists hand out 'Greeks only' food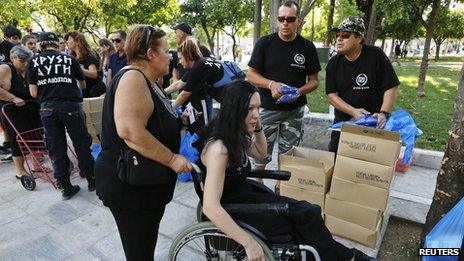 Greece's far-right Golden Dawn party has handed out free food to hundreds of struggling people in central Athens - but only to Greek nationals.
The ultra-nationalists won 18 parliamentary seats in Greece's June election, with a campaign openly hostile to illegal immigrants.
People lining up for food had to show identity papers to get the free packages from party volunteers.
Greece's debt crisis has pushed the unemployment rate up to nearly 23%.
At Wednesday's event on Syntagma Square the Golden Dawn activists handed out packets of pasta, milk, potatoes and cooking oil.
One of the party's MPs, Ilias Kasidiaris, told Reuters TV that they had bought the food "exclusively from Greek producers to give to Greek people".
A fellow MP at the event, Christos Pappas, said "we are in Greece, so Greeks have priority".
"The illegal immigrants that have come here, who enjoy, if you will, all the rights and privileges that come from Greek taxpayers are illegal, invaders. They are a threat to Greece," he said.
The Greek newspaper Kathimerini says the event took place despite a ban from the local authorities, who did not want it to be held in Syntagma Square.
Greece's ruling coalition was meeting on Wednesday to decide on more painful budget cuts. They have not yet agreed on 11.5bn euros (£9bn; $14bn) in additional savings required to access a new loan instalment from the EU and IMF, worth 31.5bn euros.